Ridley Scott's Alien Prequel May Contain Forced Gay Sex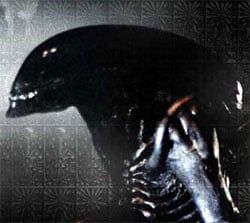 New details on Ridley Scott's Alien prequel have emerged and early word is that even though it's nothing like the original four films, word is that the script by Jon Spaihts and Damon Lindelof is so good it could be an Oscar contender. It's a little early in the process for award predictions but What's Playing seemed incredibly enthusiastic after their look at the script.
They say the movie not only includes more details on the Space Jockey as previously revealed but it's actually about the Space Jockeys. The tone is described as being hard science fiction meets psychological drama with romance. Or as their scooper calls it "Brokeback Alien". That's going to make sense when you read the rest of this article. You may want to stop here if you're hoping to avoid spoilers. You've been warned.
Warning: Potential Spoilers
In this case the Space Jockeys are actually called "Growers", friendly aliens who travel from one planet to the next terraforming. They encounter two male human slave farmers who, apparently, they use mind control on to force them to have sex. Pretty weird, right? It gets weirder. They're trying to get the humans to procreate, and have no idea that it won't work, because they're a single sex species.
There's also a human crew involved, with the usual assortment of Alien universe badasses. There's the tough as nails, possibly lesbian, African American butch chick named Oliver. They predict Zoe Saldana would be a perfect fit for this. There's another female character named "Trucks" too, and this was the role Gemma Arterton was rumored to be up for.
The origins of the Aliens is explained as well. Apparently they are part of the Growers terraforming process until something goes awry.
That's a lot of details to digest, but it sounds so completely weird and challenging, it's kind of hard to believe anyone would actually greenlight this movie. But this seems to be absolutely legitimate. It even fits with what we've heard about the project before and if Fox is actually ballsy enough to make something like this, then they'll deserve praise for having the courage to take a leap with Ridley Scott.
Note: This is an unconfirmed report and there's no way to be sure right now whether this is an accurate depiction of what they're planning for the prequel. Things could change or this could even be a hoax. Stay tuned and we'll find out.
Your Daily Blend of Entertainment News