Ridley Scott Is Thinking About Way More Than One Prometheus Sequel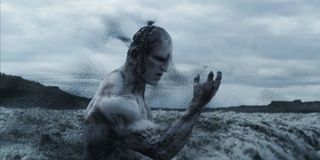 Prometheus might not have been the rollicking, caustic, and intense sci-fi masterpiece that we all hoped for, but it still returned a healthy box office amount when it was released back in 2012. As a result, we can expect Prometheus 2 to enter production within the next year, but now Ridley Scott has admitted that he has so many ideas for the series that he could make as many as three more Prometheus films.
The legendary director is currently doing the rounds promoting The Martian, but he's already set out his stall for the future by admitting that his next project will be a Prometheus sequel, which he plans to really get moving on in the first months of 2016. It was during his recent discussion with the German movie website FilmFutter, however, that the filmmaker revealed that he has a major timeline set up for the Alien prequel series. Scott was asked whether Prometheus 2 would be directly connected to Alien, and the director went full hog by revealing that there are huge plans afoot for the franchise - which he hopes will include as many as three more films. Said Scott,
What does this mean for Neil Blomkamp's proposed Alien 5? At this moment your guess is as good as mine, but it wouldn't be entirely surprising to see a studio put so much money into a franchise that's most recent film returned just over $400 million three years ago.
But there's another concern. I'm going to assume that Ridley Scott wants to be involved in each and every one of these future instalments as their director - w hich, if that happens to be the case, I have to admit that I'll be a tad disappointed about. Don't get me wrong; I love pretty much anything that Ridley Scott has ever put his name on as a director. Heck, I even think A Good Year has some good moments. Plus, his greatest piece of work as a director, Alien still causes me to get teary-eyed just thinking about it.
But it just feels like a waste of talent for Ridley Scott to focus his pristine cinematic mind on a franchise that I don't necessarily think many cinephiles want to see explored in that much more depth. Sure, I'll be excited to see what Ridley and his team can provide with Prometheus 2, but the thought of him, like James Cameron with Avatar sequels, focusing an entire decade on these films is something that leaves me feeling dejected.
But, maybe Ridley Scott has a great plan up his sleeve to one-up the mildly intriguing, but admittedly visually resplendent, Prometheus and all of its potential future sequels. He certainly has a good grip on what he wants to explore in relation to the original Alien sequel, telling the German website,
Obviously, because it's Ridley Scott, I'm always going to want to see Prometheus 2. Let's just hope that the proposed follow-ups have tighter scripts than the original. Otherwise they could just be wasting one of the greatest directors in movie history's time in the twilight of his career.
Your Daily Blend of Entertainment News
Your Daily Blend of Entertainment News
Thank you for signing up to CinemaBlend. You will receive a verification email shortly.
There was a problem. Please refresh the page and try again.