Prometheus 2 Is Definitely Happening, Find Out When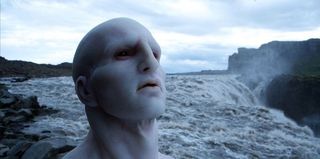 Back in 2012, there was a great deal of hype building up to the release of Prometheus, director Ridley Scott's return to the Alien universe he first visited in 1979. The result disappointed many fans (I dig it, but the film is admittedly very flawed), and the potential for a sequel has been a will-they-won't-they proposition ever since. Scott has been talking about Prometheus 2 for some time, but now we know when it will start production.
In the latest print edition of Total Film (via The Playlist), a profile of Scott reveals the interesting little tidbit that Prometheus 2 will begin filming in January of 2016. This will follow hot on the heels of The Martian, Scott's Mars-set survival drama that releases this October. Talking to the magazine, Scott said:
It's good that he's getting back into science fiction, because that little foray into biblical epics with Exodus: Gods and Kings last year was not exactly awesome. There are questions, however, about this as Scott is also reportedly attached to direct an adaptation of Don Winslow's drug thriller The Cartel for Fox, which spent a ton of money on the rights. Then again, Ridley Scott is rather notorious for jumping on numerous projects at the same time only to bail and walk away a short time later. You always have to take "Ridley Scott is going to direct" news with a grain of salt.
But if Scott does plan to shoot Prometheus 2 in January, that likely means they're closing in on a script, or at least a solid idea, which has been an issue for the much discussed sequel. At one point Scott said that were 15 drafts of the script going around, and there have been rumors and reports of numerous potential directions the story could go.
The most recent news was that Transcendence writer Jack Paglen was working on a draft. As far back as 2013, star Noomi Rapace revealed that she had met with Scott about the future of the franchise. At one point she even suggested that god or the devil should be the main antagonist of Prometheus 2, and while was essentially riffing on an idea, that does fit thematically with what Scott was trying to do in the first film.
The story of Prometheus revolves around a group of explorers who follow what they think is a map to deep space where they hope to discover our creators. It's essentially a search for God, though what they find is not exactly what they expected. Scott has indicated that, whatever the final plot of the sequel, the story will most likely follow Dr. Elizabeth Shaw (Rapace) and the android David (Michael Fassbender) as they continue to search for the Engineers, the beings who created, and who were apparently attempting to destroy, humanity.
There are still a lot of questions that remain to be answered about Prometheus 2, and a lot of pieces are in play. Scott has even said that, though we won't see the traditional Alien Xenomorph, the third act will introduce a "fresh" new extraterrestrial menace. That sounds like fun, and we'll definitely be keeping an eye on how this develops.
Your Daily Blend of Entertainment News
Thank you for signing up to CinemaBlend. You will receive a verification email shortly.
There was a problem. Please refresh the page and try again.