Robert Downey Jr. And Ben Stiller Turned Down Oscar Hosting Gig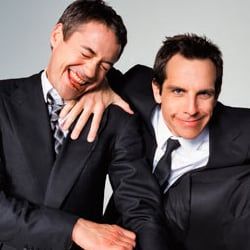 The hunt for an Oscar host trudges on. Hugh Jackman has officially turned down the chance to do the gig a second time, Ricky Gervais is tied up hosting the Golden Globes, and now Nikki Finke is reporting that producers Bill Mechanic and Adam Shankman sent out an offer to Ben Stiller and Robert Downey Jr. to host as a duo. As incredible as that pairing would have been, they said no.
Can't blame 'em, really-- hosting the Oscars is a thankless job that comes with a lot of criticism, and with Downey starring both in December's Sherlock Holmes and next May's Iron Man 2, he's running a real risk of overexposure. Stiller might actually have more reason to go for it-- his star isn't shining as brightly as Downey Jr.'s these days, and he isn't as likely to wind up gunning for an Oscar in the coming years, meaning he could take more potshots without caring about who he offends. But my guess is Stiller wouldn't get the job without Downey Jr., and RDJ would rather only don the tuxedo as Tony Stark.
There's one bit of good news out of this, though-- the fact that Shankman and Mechanic considered these two at all suggests they're heading in a younger, hipper direction. Sorry to everyone who thinks Billy Crystal should be resurrected as a host; it seems likelier that Tina Fey or Stephen Colbert would get the gig.
Your Daily Blend of Entertainment News
Staff Writer at CinemaBlend