Robert Downey Jr. Talks Cross-Dressing As Sherlock Holmes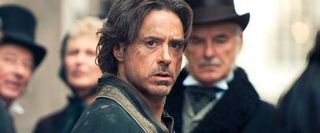 The idea of Robert Downey Jr. making things up as he goes along on a film set isn't anything new. In 2009, Jeff Bridges was quoted saying that on the production of Iron Man he, Downey Jr. and director Jon Favreau would only figure out how a scene would play out right before shooting it. Seeing how well that project ended up, it's no surprise that Downey Jr. would employ the approach in his other films as well. For example, Sherlock Holmes: A Game of Shadows.
Two weekends ago, Warner Bros. held a press conference for the upcoming sequel to the massively successful 2009 action/mystery/thriller, and during the proceedings the actor in the title role gave details how they worked on the film and how he explained the process to new co-star Jared Harris.
"He would come in and we'd have a scene that he's shooting in two days and he'd be like, 'Is this going to pretty much stay like this?' I was like, 'Not a word of it," Downey Jr. said. "'Can I have something that I can study the night before?' I'd say, 'I'm going to venture a no on the possibility of yes.'"
The star said that the improvised approach even led Harris to occasionally beg for advanced details, believing that he could do better with the material if he knew what to prepare for. While he didn't get much advanced notice about the work he would be doing, Downey Jr. did say that he was impressed with Harris' ability to adapt.
"Guy told him to go home and he wanted him to come back singing a German aria the next day," Downey Jr. said. "Nobody learns a German aria overnight, except Jared Harris."
But while this process may seem a bit chaotic, one thing that it opens doors for is collaboration. Describing it as a "Democracy in the truest and most frustrating and most rewarding sense of the word," the multiple-Oscar nominated actor said that anyone and everyone had a chance to add their opinion to Sherlock Holmes: A Game of Shadows. "Anybody could come in and say, 'You know, I'm just not cool with that.' We'd be like, 'Who's that?' 'Oh, I was just cleaning the trailers.' It was nuts."
The sequel is the first time that Robert Downey Jr. is working with Jared Harris, but also marks a reunion between himself, Jude Law and director Guy Ritchie, both of whom worked on the first film as well. Asked about the "bromance" developed between Sherlock and Watson, Downey Jr. said that his closer relationship was with Ritchie.
"Guy and I are practically brothers which makes things really interesting," the star said. "There have been times when I've wanted to lop off his head with a machete, but it's just because I love you so much. You know what I mean? There's no one you love more really, is there? Think about it."
Finally, the topic of Sherlock's disguises in the film came up, most notably the fact that the titular character dresses up as a woman for one scene. "Okay, so I guess we're not talking about this as being one of the most important films of the year?," he said, noting the arrival of awards season in Hollywood. "I put on some makeup. I thought I looked like Arnold Schwarzenegger's dwarf brother," he joked. "That's what I thought I looked like. And the lead singer from The Cure… Any other movies you want to talk about? Did you like The Artist?"
Sherlock Holmes: A Game of Shadows arrives in theaters this Friday. To learn more about and see more from the film, be sure to head over to our Blend Film Database.
Assistant Managing Editor
NJ native who calls LA home and lives in a Dreamatorium. A decade-plus CinemaBlend veteran who is endlessly enthusiastic about the career he's dreamt of since seventh grade.
Your Daily Blend of Entertainment News
Thank you for signing up to CinemaBlend. You will receive a verification email shortly.
There was a problem. Please refresh the page and try again.