Roberto Orci The Frontrunner To Helm Star Trek 3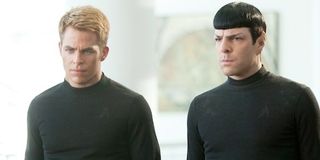 Why does it feel as if all the franchises are being handled by the same five dudes? Maybe that's because of the ubiquity of Roberto Orci and Alex Kurtzman, blockbuster writers who set up the new Star Trek universe. And now that the duo has separated, Roberto Orci is about to go where no man has gone before. The writer is going to become a director, and it looks like he's going to make his debut with Star Trek 3.
Deadline reports that, after many rumors suggesting this was a possibility, Orci is the frontrunner for the coveted job of taking over for J.J. Abrams in piloting the USS Enterprise for Star Trek 3. Orci and Kurtzman helped shape this franchise, which has so far grossed $852 million in worldwide receipts, penning the first two typically-complex but still dopey screenplays. But now that they've parted ways, new writers have been brought on to tackle the elaborate Starfleet mythos.
Don't be surprised if Roberto Orci's hand is present in that screenplay, however. Orci and Kurtzman's roles have expanded in the industry, as the duo is now running point on the Spider-Man universe after writing The Amazing Spider-Man 2. Behind the camera of a mega-blockbuster suggests you'll want to control as many variables as possible, and a sci-fi spectacular like Star Trek 3 is going to need outlandish theatrics and action sequences to please the audience. It just makes sense that Orci would establish some identity over the material to keep it in line with the mythology while also making an exciting film for the fans. Many masters must be served when you're working with $150 million budgets.
Roberto Orci and Alex Kurtzman are now heavily expanding into the directing world, with Kurtzman helming the upcoming Venom. That alone seems responsible for their professional split, and it will be interesting how their personalities diverge. Kurtzman previously directed People Like Us, a modest and not-very-good drama starring Star Trek's Chris Pine, but that project was co-written with Orci and was very much a collaboration.
Kurtzman has come across as the more mild of the two. Orci's deleted Twitter account was often a hotbed of kooky 9/11 conspiracy theories, to the point where it threatened to become a distraction to his reputation. It's not clear as to whether this is the sign of a more bombastic sensibility in the screenwriter, or whether that will manifest in the new Star Trek 3. Even if Orci were the most boring personality in Hollywood, however, bringing him on as the Star Trek 2 director could be a tremendous gamble, as Deadline's report notes big budget films helmed by first-timers like Transcendence and 47 Ronin recently went poorly.
Apparently Trek producers at Skydance have championed Orci for awhile, and Paramount needed to be won over. Now that Orci's in talks, the film could now be headed into warp drive.