Rodriguez's Barbarella Remake Is Dead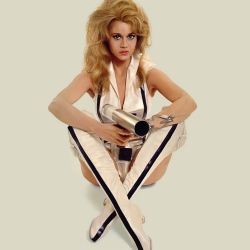 It was going to happen eventually. Robert Rodriguez has signed on to so many new projects in the last few years that it was impossible all of them would get made. But when it came to his planned remake of Barbarella, it wasn't his busy schedule that killed it-- it was Germany.
Rodriguez told MTV News that after financing from Universal fell through, "It came to the point where [a company from] Germany offered us a $70 million budget, which would have been by far the biggest budget I ever would have had for a movie," Rodriguez told MTV News. "But I had to shoot it in Germany and post it in Germany. Nothing against Germany, but I have five kids and I was like, 'God, I don't know if we can do that. I don't know if I can be away that long.'"
Rodriguez is still promising that he had something great up his sleeve, and is hoping tp release the concept art, maybe to torture us at the thought of what we're missing? "People said, 'Why are you doing 'Barbarella'?And I showed them the artwork and explained it. They would go, 'Ooooh, okay!'"
Staff Writer at CinemaBlend
Your Daily Blend of Entertainment News
Thank you for signing up to CinemaBlend. You will receive a verification email shortly.
There was a problem. Please refresh the page and try again.