This Rotten Week: Predicting The Amazing Spider-Man, Savages And Katy Perry Reviews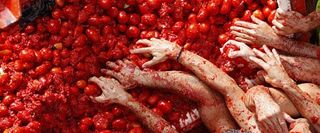 Coming off a tough week for the Rotten Watch, I'm looking to right the ship a bit. What better time to do it with Spidey senses starting to tingle, pot growers fighting back and Katy Perry getting a much-needed popularity boost.
Just remember, I'm not reviewing these movies, but rather predicting where they'll end up on the Tomatometer. Let's take a look at what This Rotten Week has to offer.
The Amazing Spider-Man
Contrary to popular belief, or what movie studios perpetuate with a seemingly endless supply of comic book movies, there are only so many mass market superheroes to go around. And considering the superhero list isn't endless, when we break it down for cultural significance, three dudes stand pretty far above the rest: Superman, Batman and Spider-Man. After these three, the list is plentiful and fluctuating with different characters filling their own little (sometimes enormous) niche, but really no one else resonates as loudly in the random Joe and Jane public consciousness as the big three.
I am not here to debate whether or not Spider-Man needed a reboot this soon, or even at all. ** But is it unreasonable to expect the production of comic movies to differ wildly from the production of actual comic books? Just peruse this list of Spider-Man publications. People have been writing Peter Parker stories for the better part of six decades. Can't we assume movie studios to follow suit in their production of said superhero's story? Which sort of explains why the big three have been given so much screen time. Superman owned the Eighties. Batman took over the Nineties. Spider-Man intersperses the Aughts. And all three are converging over the course of the next year with Dark Knight Rises hitting theaters in a few weeks and Man of Steel coming next summer.
** Sean O'Connell covers that ground in his piece . Take a look and jump into the comments section to get in on the conversation. It's a quality read.
Where there is no debate is how critics have responded to Marc Webb's (500 Days of Summer-87%) new Peter Parker story. The reviews have trended more than positive. With over sixty reviews already in, the consensus (close to 80% fresh reviews) is this movie works independent of whether the studios should have pumped it out so soon after Sam Raimi's trilogy "wrapped up." Granted that many of the reviews follow an "it's good but..." theme, critics still came out of the theater liking Andrew Garfield's hipster geek Parker portrayal as well as the tone and direction Webb has taken Spidey. Sure, you might not have wanted Spider-Man back so soon, but critics have certified this reboot "Fresh". We will too, though expect a slight dip over the course of the week. The Rotten Watch for The Amazing Spider-Man is 71%
Savages
Leave it to Oliver Stone to interject his brand of social and political criticism into the marijuana debate. Granted he appears to do so by having various factions of pot growers blow the sh@# out of each other in order to maintain a little piece of the pot-pie (and a little piece of Blake Lively) but I'm sure Stone's intentions are strong and his message is clear: marijuana should be legal, because when it isn't people kill each other. And if that isn't what he's getting at, oh well, like I said, at least we get to see things explode.
Savages, based on the novel by Don Winslow, follows Taylor "Still Tim Riggins to Me" Kitsch and Aaron Johnson as they navigate the lucrative world of getting people stoned to the bejeezus while also three-waying with Blake Lively. I can relate. When they come up against a drug cartel run by Salma Hayek and Benicio del Toro, as well as a shady DEA agent in John Travolta, well that's when everyone puts on creepy death masks and starts killing everything in sight. Again, I can totally relate.
According to early posted reviews, Stone (Wall Street: Money Never Sleeps-55%, W.-59%) has put together a strong film, somewhat reminiscent of his late Eighties, critically acclaimed work. With a rockstar cast and apparently strong visuals, these early reviews suggest a comeback from a director who at one point consistently pumped out brutally transcendent films. But a few little birdies don't paint such a stellar picture and the movie might not be the complete package these early opinions suggest. There are some flaws that'll surface as more and more reviews pop up. Either way, it's still nice to see Stone not fade quietly into the movie night. The Rotten Watch for Savages is is 64%
Katy Perry: Part of Me
Because I'm not necessarily in Katy Perry's target demographic (i.e. I'm not a 11-14 year old girl) it's a little difficult for me to wax philosophical on her career arc, personal brand, and "message" which all appear to get "dissected" in this documentary/ concert film. But because Perry's a mega-super-duper-star and ranks third overall in Twitter followers (22,335,101 as of this morning) I'll give some of my thoughts on this "film" hashtag style. Here we go:
#aroundsevenhundredhairstyles
#gigglegigglesoquirkygiggle
#doesntkissagirl
#dontmentionRussellBrand
#95minutecommercial
#brandingatitsbest
Think that pretty much sums it up. Enjoy the film middle schoolers everywhere! The Rotten Watch for Katy Perry: Part of Me is 44%
This poll is no longer available.
Recapping last week:
Yikes, not great. Not great at all. Downright bad. Embarrassing. Let's start with the worst first. Though I might be forgiven for not accurately predicting a flick about male strippers, Magic Mike (Predicted: 49% Actual: 79%) was a terrible miss for a couple of reasons. First off all, unlike my usual thought process concerning critical prediction I pretty much completely ignored Soderbergh's track record and instead based much of my score on the premise, the trailer and an unfair bias towards Channing Tatum and his ability to deliver a critical darling in a role like this.
Second of all, CinemaBlend's Editor in Chief Katey Rich (who wrote this review) practically begged me to raise my prediction close to 80%. (this was before she saw the movie) She pleaded, I said no. She tried to use logic and reason, I refused to hear either. And what happened? My prediction was predictably awful. But unlike other prognosticators, I actually own up to my mistakes. This was a big one.
Continuing the rough week, Ted (Predicted: 54% Actual: 69%) was a close but no cigar. Seth MacFarlane pulled in more critics than I thought and delivered a movie that even the anti-Family Guy crowd can get behind.
Another disaster score was People Like Us (Predicted: 78% Actual: 54%). Whatever.
And finally, Tyler Perry's Madea's Witness Protection (Predicted: 35% Actual: 29%) was a win. Leave it to old TP to get me back a little critical prediction love. His movies fall in this range like clockwork. It's uncanny really.
Next time around we head back to the Ice Age. It's going to be a Rotten Week!
Follow Doug on Twitter
Your Daily Blend of Entertainment News
Doug began writing for CinemaBlend back when Terminator: The Sarah Connor Chronicles actually existed. Since then he's been writing This Rotten Week, predicting RottenTomatoes scores for movies you don't even remember for the better part of a decade. He can be found re-watching The Office for the infinity time.