This Rotten Week: Predicting Sucker Punch And Diary Of A Wimpy Kid 2 Reviews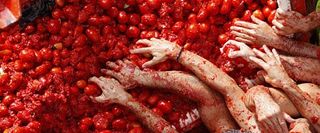 The Rotten Watch is riding a little hot streak right now. Last week was one of our best and the RW offices are buzzing with excitement. We've even brought on a few new staff members and interns to handle the emails, phone calls and interview requests piling in. Hey, what can we say, we're on the cutting edge of critical consensus. This week we've got two movies on such opposite ends of the theatrical spectrum that I doubt they can even see each other. And remember, I'm not reviewing these movies, but predicting where they'll end up on the Tomatometer. Let's take a look at what this Rotten Week has to offer!
Sucker Punch
Let me just say to start, that any trailer incorporating Led Zeppelin and Silversun Pickups is already a win in my book. It almost wouldn't matter what was thrown up on screen. It could be pictures of grass growing or paint drying and "When the Levee Breaks" and "Panic Switch" would get me pumped up to see it. Let the green grass grow baby!!!
Fortunately, Sucker Punch takes those two songs and adds in more visuals, action scenes, fighting, explosions, and crazy ass-s$%& than one viewer could ever possibly track. It's an optical smorgasbord of awesome. Granted, some of the dialogue leaves a bit to be desired, but is anyone really seeing this movie to hear what the cast has to say? Not a chance. Folks are going to see a Zack Snyder film, plain and simple.
Snyder has a style all his own, that much is abundantly clear. And while not every critic loves what he puts up on screen (see: Watchmen - 64%, 300 - 60%), there's no denying his movies are distinctive and eye-catching (and a bit polarizing). Such will probably be the case with Snyder's latest flick where he seems to have gone out of his way to buck convention. He takes a young, ex-teeny bopping female ensemble of ass kickers and puts them in, effectively, a prison escape movie (replete with dragons, fighter planes, robots and I don't even know what else). It's a bold undertaking.
There's a chance Snyder pushed the envelope too far with Sucker Punch and it's almost guaranteed a healthy gathering of critics won't like what they see. But the visuals alone will keep this flick over the 50% mark and push it even higher. The Rotten Watch for Sucker Punch is 63%.
Diary of a Wimpy Kid: Rodrick Rules
Ahh, to be Jeff Kinney. This guy has to be just laughing all the way to the bank. He comes up with a character that just about every pre-middle school boy can relate to, creates a book series about said kid, sells somewhere in the neighborhood of 42 million copies of this series (you read that number correctly) and then pumps it into a movie franchise. I am assuming life in the Kinney mansion is going fairly well.
Diary of a Wimpy Kid: Rodrick Rules is the second movie in the franchise. Sequels typically have difficulty living up to their forerunners and I don't see this case being any different. The first, Diary of a Wimpy Kid (53%) was probably better than expected, considering the content, but still bordered just around the middle.
Director David Bowers (Flushed Away - 72%) helms this latest chapter in, main character, Greg Heffley's story of preteen woe. It looks like the movie has a laugh or two, but as far as critics are concerned, it probably misses the mark. The Rotten Watch for Diary of a Wimpy Kid: Rodrick Rules is 40%..
This poll is no longer available.
Recapping last week
As I stated at the top, last week was a Rotten Watch win, plain and simple. Limitless (Predicted: 57% Actual: 64%) was just a shade off the mark with its score and even made a little coin at the box office. Bradley Cooper is winning.
Meanwhile Matthew McConaughey, as predicted, is on the comeback trail. I love this guy and just want to see him get back in to his early career form. He's doing it with The Lincoln Lawyer (Predicted: 72% Actual: 80%). This high of a score for basically a crime thriller is stunning. If anything I thought 72% would be too high.
And finally, while I had a head start with Paul (Predicted: 68% Actual: 70%), my prediction that it would climb from it's original 64% looks pretty good now. American critics just loved this thing.
Next week, the Easter Bunny cashes in, another kid attracts evil and Jake Gyllenhaal does his best Bill Murray impersonation. It's going to be a Rotten Week!
Your Daily Blend of Entertainment News
Doug began writing for CinemaBlend back when Terminator: The Sarah Connor Chronicles actually existed. Since then he's been writing This Rotten Week, predicting RottenTomatoes scores for movies you don't even remember for the better part of a decade. He can be found re-watching The Office for the infinity time.