Rupert Everett To Direct And Star In Oscar Wilde Biopic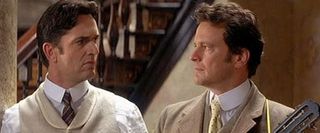 British thespian Rupert Everett may be best-known Stateside as Julia Roberts' gay best friend in the classic romantic comedy My Best Friend's Wedding. But despite his scene-stealing screen presence, Everett never scored the leading man heights he'd hoped for. In 2009, he stated publically that he feels his movie career was stifled because he's an openly gay actor. Perhaps experiencing this prejudice is what has drawn him to the life story of legendary wit and heralded writer Oscar Wilde, whose life was irrevocably marred when he was prosecuted for sodomy and gross indecency—1890s legalese for being gay.
Everett is looking to bring Wilde's life and struggle to the big screen, writing and directing a biopic in which he'll star called The Happy Prince. The film will begin with the tragic final chapter of the author's life, following the harsh prison sentence of two years of hard labor that inflicted injuries that ultimately led to his decline and death. In this sad state, Everett's Wilde will reflect on his life, with a melancholic but sharp humor. According to THR, The Happy Prince will be a comedy, and will mark not only Everett's directing debut but also his first produced screenplay.
It's an ambitious and risky endeavor, but he has already secured the support of an impressive cast with a little help from his friends and fellow Wilde admirers. Colin Firth, Tom Wilkinson, and Edward Fox, who all co-starred with Everett in 2002's spirited adaptation of Wilde's The Importance of Being Earnest, are presently attached to the project as is Emily Watson, who worked with Everett in the 2005 thriller Separate Lies. For his part, Firth will play Reginald "Reggie" Turner, a loyal friend who stuck by the disgraced playwright 'til the bitter end, but no other role assignments have yet been announced. However, it's likely Watson will play Wilde's wife Constance Lloyd. And as someone who has watched the 1997 biopic Wilde a half a dozen times, I wonder if Wilkinson may well reprise his role as the Marquess of Queensbury, who was the enraged father of Wilde's reckless young lover Lord Alfred Douglas, as well as the source of Wilde's downfall.
As for Everett, he has some pretty big shoes to fill; Stephen Fry's portrayal of the title character in Wilde drew praise including a Golden Globe nod. Notably, it was a largely unknown Jude Law who played Wilde's rash beau, and so I'll be curious to see what handsome young actor Everett lands for that role. The Happy Prince is not slated to shoot until summer of 2013, so we may wait a while for further casting to be revealed, but it's already off to a great start.
Staff writer at CinemaBlend.
Your Daily Blend of Entertainment News
Thank you for signing up to CinemaBlend. You will receive a verification email shortly.
There was a problem. Please refresh the page and try again.