Sail The Stranger Tides With Jack Sparrow On Blu-Ray This October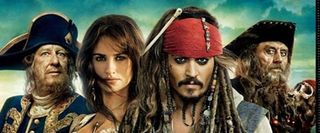 You just can't keep a good pirate down. Despite two sub-par sequels, the Pirates of the Caribbean franchise took back to the high seas this past May, and soon raked in over a billion dollars of booty worldwide. And that's a pile of treasure that pretty much guarantees Jack Sparrow will continue having adventures for as long as Johnny Depp wants to play him. In the mean time, those of us (like me) who skipped out on this latest adventure after being underwhelmed by the last two, you'll get the chance to search for the Fountain of Youth alongside Sparrow in your living rooms this fall. Disney has set an October 18th home-video release date for Pirates of the Caribbean: On Stranger Tides.
Following Disney SOP these days, On Stranger Tides is arriving in a variety of formats, including a ridiculous five-disc combo pack. Seriously, when your combo packs are larger than some seasonal sets of TV shows, maybe it's time to abandon a format or two. Nevertheless, for those of you who have either embraced 3D at home or simply must have every format known to man, the Limited Edition Five-Disc Combo Pack will include 1 3D Blu-ray disc, 2 regular Blu-rays, 1 DVD, and 1 digital copy. That'll run ya $49.99. You can also save yourself ten bucks and opt for the regular Blu-ray/DVD combo pack which only includes a paltry two discs. On the other hand, if you've a hankering to pick up the entire series in one fell swoop, you can lay down $169.99 for the 15-disc Limited Edition Four-Movie Collection (packed inside a snazzy pirate's chest, no less -- pics below).
For those of you who somehow avoided the trailer barrage a few months ago, On Stranger Tides reunites Captain Jack Sparrow with Barbossa (Geoffrey Rush) in a quest to locate the mythical Fountain of Youth. Along the way, he'll cross swords with Blackbeard (Ian McShane), tussle with mermaids, and leer at Penelope Cruz.
Here's the disc breakdown:
Two-Disc Combo Pack
Disney Second Screen
Bloopers of the Caribbean
Audio Commentary by director Rob Marshall
LEGO Animated Shorts: Captain Jack's Brick Tales
Five-Disc Combo Pack
All of the above, plus…
Legends of On Stranger Tides
In Search of the Fountain
Last Sail/First Voyage
Under the Scene: Bringing Mermaids to Life
Deleted and Extended Scenes with Intros by director Rob Marshall
Image 1 of 5
Your Daily Blend of Entertainment News