Samantha Barks To Co-Star With Susan Boyle In Les Mis Follow-Up The Christmas Candle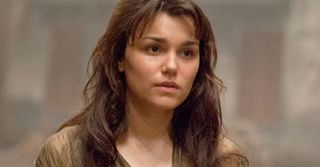 The lovely Samantha Barks has had a pretty remarkable year. She went from being a relative unknown to being cast in the widely coveted role of Eponine in director Tom Hooper's Les Miserables. As any theater nerd worthy of her Playbill collection knows, Eponine is the best female role in the stage version of Les Mis. And not only did Barks land it, she did so by beating out much more famous would-be Eponine's like Taylor Swift, Lea Michele, Scarlett Johansson and Evan Rachel Wood.
While the most resounding praise for the film went to Anne Hathaway for her face-meltingly brilliant rendition of Fantine's "I Dreamed a Dream," Barks drew notice and praise from critics and audiences alike. A fete made more impressive by the fumblings of her famous co-stars. Funny enough, for her follow-up, she is being paired with another famous belter of Fantine's heartbreaking ballad.
THR reports Barks will co-star with Britain's Got Talent's breakout singing sensation Susan Boyle in her first feature film. Based on the novella by Max Lucado, The Christmas Candle is set in a small English town in in 1890. Described as a timeless and inspirational tale, the story involves angles, candles, Christmas wishes, and (we assume) some singing. Beyond Barks and Boyle, the cast includes Hans Matheson (Clash of the Titans), Sylvester McCoy (The Hobbit: An Unexpected Journey), John Hannah (The Mummy), Barbara Flynn (Miss Potter) and James Cosmo (HBO's Game of Thrones). Eric Newman and Candace Lee penned the screenplay, and John Stephenson will direct.
The Christmas Candle is currently in production in the U.K. Speaking of her now hectic schedule, the chipper Barks, who preformed on stage at the Academy Awards on February 24th, said, ""Having just landed from the Academy Awards, I had an hour to unpack and repack and get to set. I'm very excited to be part of The Christmas Candle, and I'm loving every second."
Staff writer at CinemaBlend.
Your Daily Blend of Entertainment News
Thank you for signing up to CinemaBlend. You will receive a verification email shortly.
There was a problem. Please refresh the page and try again.