Samuel L Jackson Jokingly Endorses RedTube, Gets Yelled At By Some Porn Stars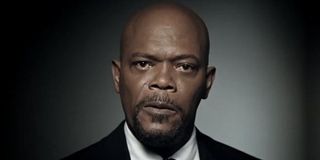 A lot of celebrities are terrible at giving interviews. They can never truly open up and get honest. Samuel L Jackson does not have that problem. Give him a microphone, ask him a question and he will answer it. An overwhelming majority of the time, people find that trait in him really endearing, but now and again, something he says can ruffle a few feathers among a certain segment of society. In this case, it's some porn stars who aren't very pleased with his endorsement of RedTube.
The incident in question happened during a press conference for Captain America: The Winter Soldier. A reporter asked the panel to select a technological advancement they think the film's title character should be made aware of. Chris Evans cited music, specifically The Beatles and Led Zeppelin. Scarlett Johansson cited cake pops and Samuel L Jackson, in all his blunt glory, offered up RedTube. The off-the-cuff remark drew a fair number of laughs in the moment, but according to TMZ, the joke wasn't so funny to some inside the porn community.
So, without realizing it, Samuel L Jackson joked his way into a bit of a mess, and now, porn stars Catalina Cruz and Tanya Tate would like him to apologize and let people know looking at free boobs isn't always a victimless crime. In addition, they would like people to boycott his films until he does so because the two starlets (and assumedly some others) see his position as extremely hypocritical given how hard Hollywood is working to prevent people from downloading its movies.
Here's a portion of Tate's statement…
This issue really isn't as simple as it seems, however. To understand why, you need to understand the specifics of how the website actually works.
RedTube is an Internet streaming service, much like YouTube. It houses pornography of all types and allows users to watch much of it for free in the privacy of their own homes. In addition, it also maintains a giant library of higher end content that users can subscribe to for around $10 a month. It's one of the 200 or so most popular websites in the world, but depending on who you ask, it might also be a blatant copyright infringer.
Because of its extensive network of ads, almost all of which direct to other porn sites, and its premium streaming service, RedTube works directly with many of the biggest pornography studios in the world. It's unclear whether they have mixed feelings about this relationship or actually like it, but at minimum, a majority of them certainly tolerate it. Now and again, however, various porn stars or an individual company will go on the offensive and publicly claim RedTube is stealing copyrighted material. Thousands of people in Germany were hit with payment requests for allegedly watching infringed material back in December. Those legal accusations are dubious at best, however, and for the foreseeable future, RedTube will likely remain exactly what it is.
Most people would likely take this giant mess as a sign that Jackson should be a little more careful in interviews, but honestly, speaking frankly is exactly what got him here. So, I vote he continues being himself, continues speaking his mind and continues being one of America's most beloved actors. We need more people who say what they think, and if it lands them in hot water on some porn-related issues now and again, that's fine.
If you feel like looking into this RedTube issue more for research purposes, of course, you can join Samuel L Jackson in visiting the official website here (THE MOST NSFW THING POSSIBLE). Or you can turn the comment section into a brainstorming session to find Samuel L Jackson's best possible porn name. I vote for Blowzone.
Your Daily Blend of Entertainment News
Enthusiastic about Clue, case-of-the-week mysteries, the NBA and cookies at Disney World. Less enthusiastic about the pricing structure of cable, loud noises and Tuesdays.