Samuel L. Jackson May Join Tim Burton's Next Movie, Get The Details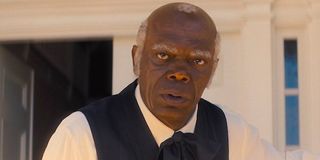 Tim Burton's most recent film Big Eyes, starring Amy Adams and Quentin Tarantino favorite Christoph Waltz, found moderate success with critics and audiences alike. On the heels of the film's run, it looks like Burton may be teaming up with another longtime Tarantino collaborator, Mr. Samuel L. Jackson.
Burton's next film Miss Peregrine's Home for Peculiar Children is slated for a 2016 release and with the film deep in pre-production, casting details are well underway. Already onboard are Eva Green, who will be playing the title character, and Hugo's Asa Butterfield, who will fill the shoes of the other lead Jacob Portman. Jackson is currently in negotiations, as reported by Deadline, to play a major role in the film by the name of Barron. The details are sketchy on the character's involvement in the story but it appears Mr. Barron is a disguise of a key player in the film that goes by the name of Dr. Golan.
The script is written by Jane Goldman (The Woman in Black) and based on the book by Ranson Riggs. It centers on 16-year-old Jacob who uses various clues to lead him to a mysterious island where he finds the all-but-destroyed Miss Peregrine's Home for Peculiar Children. Upon further exploration, roaming through the long-abandoned facility, he learns the former occupants of the building possessed super powers and furthermore he begins to believe the children may have never actually left.
This sounds like more of a return to form for Burton, as far as story goes. Big Eyes was a bit outside his traditional forte, a biographical drama focusing on painter Margaret Keane, who found great success in the 1950s only to later deal with difficult legal issues due to her husband's claiming of public credit for her work.
Burton's four previous live action films, Dark Shadows, Alice in Wonderland, Sweeney Todd: The Demon Barber of Fleet Street and Charlie and the Chocolate Factory, were all done with his traditional muse Johnny Depp, something many of us have accepted as a lifelong collaboration. However, it was a welcome change to see him work with Waltz, as was it nice to see the actor get a decent role outside of a Tarantino film. If the results Burton pulled from Waltz in Big Eyes are any indication of what he will do with Jackson, we're certainly eager to see the two come together.
Jackson is currently filming The Hateful Eight with Tarantino out in Colorado as we speak. Of late, he has made a few appearances in the TV series Agents of S.H.I.E.L.D, reprising the role of Nick Fury (a role he'll embody again for the upcoming Avengers: Age of Ultron hitting theaters in May). He has at least another five projects in the works at different stages of production and one, Kingsman: The Secret Service, hitting theaters on Feb. 13, 2015.
Your Daily Blend of Entertainment News
Thank you for signing up to CinemaBlend. You will receive a verification email shortly.
There was a problem. Please refresh the page and try again.