Saoirse Ronan Will Be A Surfer Girl In Tribes Of Palos Verdes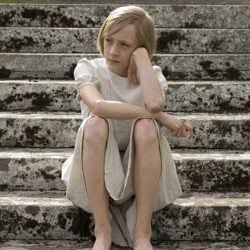 Though The Lovely Bones didn't really make much of an impact on the box office or the world in general, it did serve nicely as a stepping stone for Saoirse Ronan, who at 15 is making the key transition from "that little girl in Atonement" to full-fledged movie star. Now another gritty teenage role has come her way to keep that transition going. Production Weekly reports that Ronan will star in The Tribes of Palos Verdes, an adaptation of Joy Nicholson's young adult novel to be directed by Liz Friedlander.
Published in 1998, Palos Verdes takes a fairly dark perspective on California surfing culture, following a teeange girl who moves there with her troubled family and finds her only outlet in surfing. Director Friedlander has only one feature credit, the dancing drama Take The Lead, but has been behind several episodes of One Tree Hill and 90210, both shows that may influence her style with more stories of teen angst. Lucky for her she's got an ace in the hole in Ronan, who even when mired in something as crazy as The Lovely Bones can pull off anything she wants. She's currently playing a teen assassin in Joe Wright's Hanna, but with nothing else pressing on the horizon, Palos Verdes could easily be what's next.
Staff Writer at CinemaBlend
Your Daily Blend of Entertainment News
Thank you for signing up to CinemaBlend. You will receive a verification email shortly.
There was a problem. Please refresh the page and try again.