Scarface Remake Will Tackle Mexican Drug Cartels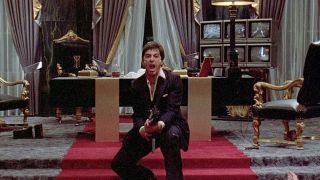 (Image credit: Universal Pictures)
Al Pacino as Tony Montana in Brian De Palma's Scarface is one of the most iconic gangsters ever set to film. So, even though that feature is a remake of Howard Hawks's 1932 adaptation of Armitage Trail's novel of the same name, many movie fans have been up in arms about Universal's plans to create another Scarface remake. Still, the project was off to a good start with screenwriter David Ayer, whose most recent effort End of Watch garnered rave reviews, signed on. Then, back in October Donnie Brasco adapter Paul Attanasio was brought in to punch up the script, and with that news item came some insight into Universal's new take on Tony.
At the time, it was revealed that the rise and fall tale of a gangster gone mad would be transplanted into modern-day America. And while Tony would still be an immigrant, Universal was keeping quiet on which foreign land he'd call home. Previously, Scarface has been Italian, then Cuban, but Latino Review has discovered that this latest Tony will be Mexican. Moreover, he'll be deeply embedded in the world of the country's notorious drug cartels.
With Mexico's real drug cartels earning horrifying headlines that become international news, this shift in Tony's heritage is an obvious way to give the story a contemporary update. However, it seems a risky choice, considering Latino audiences are proving to be a major force at the box office. Will they be eager to see a Tony Montana tale set amid Mexico's most glaring national concern, or will they be turned off by another depiction of Mexican men as violent drug dealers?
From here, it will be interesting to see how producers cast the lead. 1932's Italian Tony was played by Ukraine-born actor Paul Muni, while 1983's Cuban Tony was portrayed by Italian-American Pacino. Will an actual Latino actor get a shot at Mexican Tony? Or will this be another case of Hollywood whitewashing? We'll find out as Scarface develops.
Your Daily Blend of Entertainment News
Staff writer at CinemaBlend.