Scarlett Johansson Goes Lesbian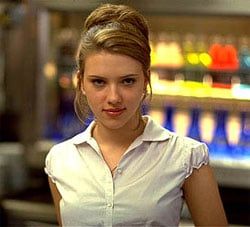 Scarlett Johansson continues to work for Woody Allen even though people stopped paying attention to him again about three seconds after Match Point failed to win any awards of consequence. Their next movie together is Vicky Cristina Barcelona, and unlike Scoop there may actually be a reason to see it.
The NY Post says Scarlett will have an "extremely erotic" lesbian sex scene with Penelope Cruz in it. That sort of thing is nothing new for Penelope, after all this is the woman who made out with her sister for her brother's music video. I think we've established that there's nothing Penelope Cruz won't do.
Scarlett on the other hand has so far avoided being overtly sexualized in most of her movies till now, much to the chagrin of millions of heterosexual men. It looks like she'll make up for it all at once in Vicky Cristina, where in addition to getting gay with Penelope she'll also have a steamy threesome scene with Javier Bardem, who play's Penelope's husband.
Perhaps the larger question here though is do we really want to watch erotica filmed by Woody Allen? It's not exactly his forte. It's kind of like watching stag films with your grandpa. Gross.
Vicky Cristina Barcelona is the movie you've probably heard about Woody shooting in Spain. Plot details are sparse, but it involves two American tourists who become involved in a relationship with a Spanish painter… and apparently his wife? Scarlett Johansson, Penelope Cruz, Javier Bardem, Rebecca Hall, Chris Messina, and Patricia Clarkson star.
Your Daily Blend of Entertainment News
Thank you for signing up to CinemaBlend. You will receive a verification email shortly.
There was a problem. Please refresh the page and try again.