Schwarzenegger's Terminator Replacement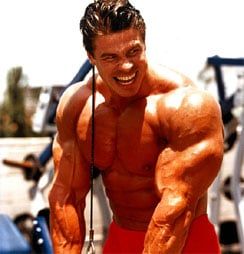 We knew Arnold Schwarzenegger wasn't going to be in Terminator Salvation, but what we didn't know is that he'd be replaced. Rather than simply using a Terminator different from the one he portrayed in all three previous Terminator movies, it looks like McG has hired someone new to play the T-800.
The story comes from a smallish paper called The Clinton News Record, where they spoke with a bodybuilder named Roland Kickinger… the new T-800. Oddly enough, not only is Kickinger a body builder like Arnie, he's also Austrian. In fact, Kickinger called Arnold a mentor, and claims they trained together for awhile. He even played Schwarzenegger in a A&E Network biopic called See Arnold Run. He's one step away from being a full-blown Arnie impersonator.
And he really is replacing Arnold. From what he says, he's not playing some other T-800 model, but the same one Arnold played, maybe even the same one that goes back in time in the first Terminator movie. Kickinger says, "It's Arnold's character in the first Terminator. That's basically my role, but 20 years before, so it establishes how the Terminator [came] about."
It's kind of a bummer to have anyone but Arnold playing the T-800. Couldn't they have just made it the T-799 or something? Still, I suppose this was inevitable. Might as well suck it up and live with it.
Your Daily Blend of Entertainment News
Thank you for signing up to CinemaBlend. You will receive a verification email shortly.
There was a problem. Please refresh the page and try again.