Sci-Fi Novel The Drowned World Getting An Adaptation At Warner Bros.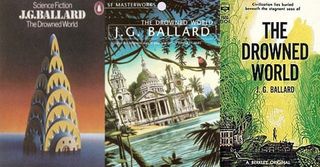 Expect to hear Fox News clamoring with renewed fervor about climate change conspiracies because Warner Bros is now developing a new movie set in a future where the polar icecaps have melted, creating a wild bramble of shambled civilization.
Deadline reports WB has optioned the rights to J.G. Ballard's science-fiction novel The Drowned World. The critically heralded novel, which recently earned its 50th anniversary reprinting, is set in a world where global warming has radically altered the entire globe.
The year is 2145; jungles and lagoons inhabited by giant lizards and insects have overtaken Europe. Much of the world is underwater, including a sizable chunk of London, England. In a high-rise there are two floors above the waterline, and this is where biologist Dr. Robert Kerans lives. He is the hero of this strange story, as he traverses into this wild world driven by a single-minded obsession to survey its flora and fauna. Also in the mix are some savage anarchists who plague the floodwaters' survivors.
Even from this brief description, you can probably see why such a story would appeal to Warner Bros. The Drowned World is a perfect setting for a post-apocalyptic action-adventure thriller. But as to how deeply it might dig into environmental politics, it's too soon to guess. We'll have to wait at least until the studio has secured a screenwriter for its adaptation. For now, we have high hopes for the film's visuals as David Heyman, who produced each of the Harry Potter movies, has been brought in to produce.
Your Daily Blend of Entertainment News
Staff writer at CinemaBlend.