See Back To The Future In Theaters Again Next Week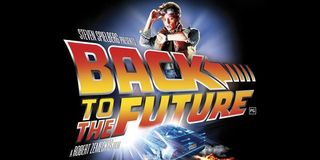 When Back to the Future returned to theaters in October 24, ahead of the trilogy's release on Blu-ray, I gathered up as many of my friends as possible and giddily headed to the theater, seeing my favorite movie of all time for the first time on the big screen. The crowd cheered when composer Alan Silvestri's name came up in the credits! The shouted "Nobody calls me chicken!" right alongside Marty! As I wrote at the time, "I imagine it's exactly how plenty of people feel the first time they run into a Stormtrooper at Comic Con: I was home."
Did you miss that experience three years ago? Don't worry-- your chance has come again. As part of their "Cinemark Classic Series," (opens in new tab) all Cinemark theaters will be bringing six classic 70s and 80s films back to the big screen this summer. The first up is Grease, which screened on SUnday afternoon and will show again this Wednesday, but the highlight for Marty McFly fanatics to me is Back to the Future, which is screening on Sunday, July 14 at 2 pm and again on Wednesday the 17th, at 2 pm and 7 pm. Cinemark isn't the nation's biggest chain, so the locations are limited-- just one screen in all of New York, New Jersey, Michigan and Maryland, for example-- but come on, if you're devoted to making sure George and Lorraine get together, you'll make the journey.
If you want to brush up on your BTTF trivia before the screening, the Internet has provided no lack of ways to dig far, far deeper into the trilogy than anybody ever expected. You can see the fans who got Doc and Marty-themed engagement photos. You can check out the eBay auction for Griff Tannen's actual Pit Bull overboard. You can dig into the newspaper headlines and real-life porn mentioned very briefly. You can even watch a mash-up of the Back to the Future and Cloud Atlas trailers. In fact, let's do that right now.
And if you want to prepare for the rest of the Cinemark Classic Series, which will also include Ghostbusters, American Graffiti and Dirty Dancing, check out the series trailer below.
Staff Writer at CinemaBlend
Your Daily Blend of Entertainment News
Thank you for signing up to CinemaBlend. You will receive a verification email shortly.
There was a problem. Please refresh the page and try again.