See Pretty Much Every Famous British Person Redesign Paddington Bear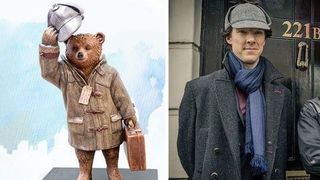 Promotions for the upcoming family comedy Paddington have hit a few snags. First came a trailer that came off more creepy than cute. Then esteemed British leading man Colin Firth bailed from providing the voice of the adored bear from Michael Bond's children's books. But things have been looking up with the crush-inducing Ben Whishaw stepping in, and more recent trailers proving more charming. On this upswing, Studio Canal has unveiled an artistic approach to movie promotion, unveiling a series of Paddington Bear statues that will be placed throughout London.
The Paddington Trail will exhibit these bears from November 4th to December 30th. While most of the sculpts of these Paddington statues are identical, each has been issued a custom-paint job, some at the hands of celebs. We've selected our favorites below.
Harry Potter star Emma Watson has spread her wings as an actress and activist. So it's fitting that her statue "Flutterby" is adored with vibrant portraits of butterflies.
Scottish actor Peter Capaldi paid homage to his latest gig, painting Paddington in Doctor Who regalia.
Sherlock star Benedict Cumberbatch followed suit, patterning Paddington after his most iconic character to date.
For more designs, including an incredible Downton Abbey bear, click on! Television personality and survivalist Bear Grylls pulled from his own life, making Paddington a "Chief Scout Bear."
English chat show host Jonathan Ross imagined a Paddington of the future, making him a robot with a wild sense of fashion.
Downton Abbey star Hugh Bonneville took the time to pose with his painted Paddington, named "The Journey of Marmalade." Memorably, the orange jam is among the beloved bear's favorite treats. So this orange-covered coat is a lovely tribute.
Broadway legend Sir Andrew Lloyd Webber gave his Paddington a makeover inspired by his hit musical Cats, plus the cheeky name "Paddington Lloyd Webbear."
Lastly, new voice of Paddington Ben Whishaw literally breaks the mold with his "Special Delivery" which shows the traditional icon rising out of a post bag.
You can see the full range of bears and where they can be found at Visit London.
Staff writer at CinemaBlend.
Your Daily Blend of Entertainment News
Thank you for signing up to CinemaBlend. You will receive a verification email shortly.
There was a problem. Please refresh the page and try again.