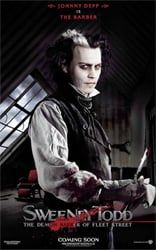 The advertising for Sweeney Todd: The Demon Barber of Fleet Street has done a great job of showing how well Tim Burton has captured the atmosphere and tone of the gothic musical. Of course, this is Burton – gothic atmosphere make up a great deal of his career. What hasn't really been shown is the actual music from the musical. With a cast that features actors who have never had to prove themselves musically, this could easily be the element that makes or breaks the movie (see: Phantom of the Opera), but it's been kept quiet… until now.
We're finally getting a look at one of the pieces from the musical in a video that's been released via MySpace. Titled, "Johnny Depp's Sweeney Todd Studio Sessions," the video is a quick interview with Depp and then footage of him recording a song in the studio intercut with the performance of the song in the movie. The result: shockingly good.
As I said before, I know Sweeney Todd isn't going to be for everyone – heck, this clip alone shows that pretty well, but I think those who are looking forward to the film adaptation are going to be very happy with the end result. Take a look at the clip below:
Johnny Depp's Sweeney Todd Studio Sessions
Your Daily Blend of Entertainment News
Thank you for signing up to CinemaBlend. You will receive a verification email shortly.
There was a problem. Please refresh the page and try again.