See Why Eddie Redmayne Could Win An Oscar For The Theory Of Everything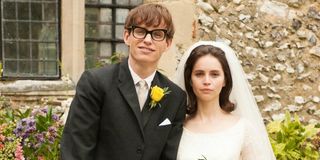 How does one sandwich the staggeringly influential life of brilliant physicist and author Stephen Hawking into one compact, Oscar-hopeful feature film? If The Theory of Everything is proof, you focus on one aspect – the genius' romantic relationship with his college sweetheart, Jane – and connect it to all of the other things that Hawking accomplished. The end result can be seen in the trailer above, shared with us by Focus Features.
Les Miserables star Eddie Redmayne transforms into Hawking in every aspect: plugging into the intellect of the unprecedented mind in the early stages of Theory; then succumbing to the man's physical ailments as the movie progresses. Felicity Jones plays Jane, Hawking's first love who stands by her man through thick and thin… until she doesn't. The first trailer hints at the depth of the commitment in their relationship. But there's a lot of ground to cover in Theory, and this full tease only hints at a portion of it all.
I was lucky enough to see director James Marsh's The Theory of Everything during its world premiere at the Toronto International Film Festival. At the time, I wrote that the picture was "a romantic, artistic and beautiful story about a challenging love," referring to this as "an intelligent love story [that] touches the heart by exploring the sacrifices both parties made to cope with Stephen's debilitating disease." It's how Focus Features was able to include this quote in the trailer. (Thank you!)
At the same time, I still think the conversation on The Theory of Everything will zero in on
[[ ah ref http://www.cinemablend.com/new/Eddie-Redmayne-May-Play-Genius-Stephen-Hawking-Theory-Everything-38044.html ]] Eddie Redmayne, whose transformation into Stephen Hawking is, simply put, flat- out mesmerizing. He is stunning. This is one of the year's greatest performances, and I believe Redmayne currently is the one to beat in the Best Actor category.
The Theory of Everything will open in theaters on November 7, and should enjoy a strong push through the crowded Oscar field. It ticks off so many boxes, namely being a smart, emotional and well-directed period biopic about a fascinating subject that boasts some of the finest performances of the still-developing season. In a nutshell, go out of your way to see it.
Movie junkie. Infatuated with comic-book films. ReelBlend cohost. Resident dad. Extroverted introvert. Wants to see the Snyder Cut. Managing Director at CinemaBlend.
Your Daily Blend of Entertainment News
Thank you for signing up to CinemaBlend. You will receive a verification email shortly.
There was a problem. Please refresh the page and try again.