On The Set Of Peter Bogdanovich's Squirrels To The Nuts, An All-Star Reunion And A Wrestling Match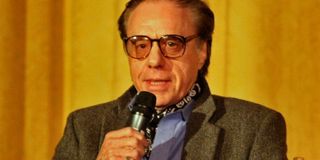 The wrestlers grapple in the ring. The crowd goes wild. Then one wrestler grabs a hold of the other guy, launches him out of the ring entirely…and into Cybill Shepherd's lap.
It's the second to last day of production on Squirrels to the Nuts, the first narrative feature in a decade from Peter Bogdanovich, a straight-up legend who made The Last Picture Show, Paper Moon and, most recently the documentary Tom Petty: Runnin' Down A Dream. On this afternoon inside a boxing gym in Inwood, the northernmost neighborhood in Manhattan, Bogdanovich is maybe the quietest man in the room, wearing his customary neckerchief and stepping occasionally to Shepherd and her co-star Richard Lewis to give basic instructions. Dressed in a bright green muumuu and black cowboy hat, respectively, and seated in the front of a crowd of about 20 wrestling fans, the actors scream and cheer for the wrestlers for several takes-- Shepherd tosses in some "wring his neck" and "break him over your knee" motions.
The woman seated to the right of Shepherd is the mother of co-screenwriter Louise Stratten, who was married to Bogdanovich when they wrote the script together in the late 90s (they have since divorced but are working closely together on this film). Shepherd's first film role was in Bogdanovich's The Last Picture Show, and the two carried on a long relationship in addition to working together four more times. The film is stacked with cameos, from Paper Moon's Tatum O'Neal to Vanity Fair publisher Graydon Carter, and even people who have never worked with Bogdanovich wound up in the film through connections-- Owen Wilson suggested Jennifer Aniston, who suggested Kathryn Hahn, and all three play major roles. Returning to directing at an age, 74, when he could have easily retired, Bogdanovich seems to be surrounding himself with his favorite people from top to bottom-- and in some cases handing them roles they never thought were possible.
"It's a sight gag," Lewis explains to me about the wrestling scene as I hop into the van that will take him, me, Shepherd and a handful of others 20 blocks down the streets to the afternoon's next location. Squirrels to the Nuts, as you might have guessed by now, is not actually a movie about wrestling; the scene I watched them shoot is intended as a "where are they now?" tag for the very end of the film, in which we find Lewis and Shepherd's characters in their element-- at a down-and-dirty wrestling match. They play the parents of the film's actual central character, Izzy (Imogen Poots), a prostitute-- though her parents don't know it-- and an aspiring actress who starts a relationship with Owen Wilson's character, a Broadway director. WIlson's character launches Izzy into the rarefied world of Broadway and fancy New Yorkers, but she's still living at home with parents who, according to Lewis, are "unsophisticated morons." And that's exactly the way he likes it. A famous stand-up comedian who may be best known these days for playing himself on Curb Your Enthusiasm, Lewis seems ecstatic to get away from his "there's Richard, the neurotic" reputation. "It's really a pleasure to have my head empty of problems, just being stupid."
Poots is waiting at the second location, a small apartment under the George Washington Bridge meant to be her home with her parents in Brooklyn. She joined the cast when Brie Larson backed out, and is the freshest face of the bunch. She refuses to answer when I ask which high-profile co-star had her attention the most. "You can't choose," she tells me over the phone a few weeks after that day in Washington Heights. "You're just spoiled." Poots describes the film as a "like a farce, a kind of old-school nature where everything interlinks in one way or another," and compares the tone to behind-the-scenes comedies like Waiting For Guffman and Noises Off.
Why so many damn characters? "If you do a comedy with a lot of characters you don't have to stay with one of them too long," Bogdanovich tells me as the production sets up on the sidewalk outside the apartment. When he and Louise wrote the script together she planned to play the Izzy role, and Owen Wilson's part was written for John Ritter and Shepherd in line for the character's wife (now played by Kathryn Hahn). They even did a reading of the script at Ritter's house, but his commitment to the TV show 8 Simple Rules delayed production until Ritter's unexpected death in 2003. "We were both very close to John, and after that we didn't think to do it for a while," Bogdanovich explains. It took meeting Wilson, through mutual friend Wes Anderson, for Bogdanovich and Stratten to consider picking up the script again. " It was because of Owen that we thought of making the movie," Stratten tells me. Bogdanovich chimes in, "It was definitely because of Owen. He combines innocence with an attractiveness that's not overly sexual."
With Owen Wilson, Jennifer Aniston, Kathryn Hahn, Imogen Poots and Will Forte starring, Wes Anderson and Noah Baumbach producing and the likes of Lewis, Shepherd, Debi Mazar, Lucy Punch and Rhys Ifans in supporting roles, Squirrels to the Nuts is star-studded right on the surface. A day on its set is even more so, from Shepherd telling me in the van that her muumuu was inspired by Hollywood super-agent Sue Mengers to Bogdanovich's story about the reading at John Ritter's house. Bogdanovich himself is walking film history-- knowing he only has about 10 minutes to talk before going back to work is killer, realizing just how many stories he could tell-- and his film seems like a blast from it too, a screwball comedy cut from the 1930s and stacked with comedic actors up to the challenge. "His stories are really incredible," Poots tells me about their first meeting, at the historic Palm Court restaurant in New York. "He knows the quirks and he has these sort of very personal stories from when he first met them and how they all kind of grew up together. It was a really fantastic insight that he gives you."
Squirrels to the Nuts wrapped production in August. We'll have more from the set, and from our conversations with everyone involved, closer to its release.
Staff Writer at CinemaBlend
Your Daily Blend of Entertainment News
Thank you for signing up to CinemaBlend. You will receive a verification email shortly.
There was a problem. Please refresh the page and try again.