Shia LaBeouf's The Necessary Death Of Charlie Countryman Finds Distribution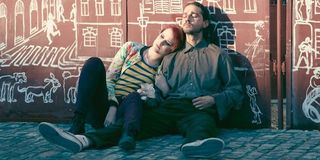 Boasting a star-stacked cast that includes Shia LaBeouf, Evan Rachel Wood, Melissa Leo, Til Schweiger, Mads Mikkelsen, John Hurt and Rupert Grint, The Necessary Death of Charlie Countryman was initially a standout for critics flocking to Sundance last January. However, the directorial debut of Swedish commercial helmer Fredrik Bond proved painfully unpopular once it actually screened, with more than one critic declaring the movie "unnecessary." Perhaps this bad buzz is to blame for the action-comedy walking away from the festival without securing stateside distribution. But at long last some enterprising entertainment provider has bit.
Deadline reports Millennium Entertainment has wrangled the high-profile pic's U.S. rights for a low seven-figures deal five months after The Necessary Death of Charlie Countryman made its world premiere at the Sundance Film Festival. This distributor seems a good fit for this tricky flick, as the banner has previously pushed such bold indies as Richard Linklater's unconventional crime drama/documentary Bernie, Oren Moverman's brutal cop drama Rampart, and Lee Daniels' absolutely bonkers The Paperboy.
The Necessary Death of Charlie Countryman stars LaBeouf as the titular troubled man, who foolishly puts his life on the line when he falls for a gangster's girlfriend, a part played by Wood. The pair were at the center of the film's first look, as well as its weird (yet sort of wonderful) first clip. Notably, while the reviews have been rough, moviemakers have been impressed by the emerging Bond's style. He was recently considered for the coveted helm of Pirates of the Caribbean 5. Perhaps his rising fame might have been reason enough for Millennium to pick up his debut, winning the allegiance of a director to watch.
A platform theatrical release is planned for The Necessary Death of Charlie Countryman, though when that will happen has not yet been announced.
Staff writer at CinemaBlend.