Shia LaBeouf To Star In Quirky Love Story Called A Giant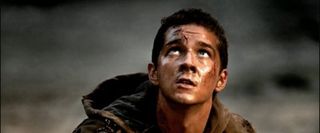 It's easy to pick on Shia LaBeouf. He's got a funny name. He stars in the godawful Transformers movies. He inherently brings back memories of that Indiana Jones movie which must not be named. You might be slower to razz the poor guy, however, if he were 20 feet tall and lived next door to you. Then again, you might just fall in love.
That is, more or less, the concept behind A Giant, a new film project in which LaBeouf has signed to play the oversized lead. Based on a spec script by Gil Kenan (City of Ember), A Giant tells the story of a young woman who moves back home to repair her relationship with her brother and heal after a string of crappy relationships. Instead, according to Variety, she falls in love with LaBeouf's character, a 20-foot giant man-child who lives next door to her new digs. Too bad the title Big Love was already taken.
All easy LaBeouf slams aside, I have to credit the guy for taking an interest in less mainstream and more eclectic projects when he could easily just be riding the Transformers train all the way to a giant, Scrooge McDuck-esque money vault. A Giant could very easily go either way: a charming, romantic exercise in magical realism, or a cheesy misfire. Still, it's a more interesting choice than trying to avoid being stepped on by giant robots. LaBeouf's name is also attached to several other intriguing projects, including the Depression-era bootlegging drama The Wettest County in the World and Horns, based on Joe Hill's novel.
Your Daily Blend of Entertainment News
Thank you for signing up to CinemaBlend. You will receive a verification email shortly.
There was a problem. Please refresh the page and try again.