Simon West Takes Over Jason Statham's Heat Remake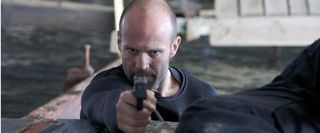 It's a little terrifying to hear about a remake of Heat starring Jason Statham, since you rightly assume that they're talking about the iconic Michael Mann film, which famously united Al Pacino and Robert De Niro for a single electrifying scene. But the remake that Statham has stepped behind is in fact of the 1986 film of the same name, starring Burt Reynolds and written by William Goldman. Initially Statham had gotten on board with Brian De Palma set to direct, but there's been a shift in plans-- and it's up to you to decide if that's for the better.
Sierra/Affinity, which is selling rights to the film, has announced that Simon West has taken over in the director's chair, reuniting with Jason Statham just a few months after the release of The Expendables 2 (the two also worked together for 2011's The Mechanic). Goldman is still on board to write an updated version of his own original script, and Statham will also be reuniting with Cory Yuen, who directed him in The Transporter and will serve as the action director and fight choreographer. It makes sense that West would want someone who's a bit more of an expert in that area-- though he's made giant action films like Con Air and Lara Croft: Tomb Raider, he's not as experienced with the kind of physical action that Statham brings, and someone like Yuen can obviously fill that gap.
Statham will be playing the role originated by Reynolds, a compulsive gambler who works odd jobs in security to make ends meet. Eventually things come to a head when his friend is brutally beaten, and Statham's character must take on the Las Vegas mob responsible. It sounds so similar to other Statham movie setups that you kind of wonder why they even need to make it a remake-- why not just plug in the elements and change a few details? Maybe they're just counting on confusing people who think it's a remake of Michael Mann's movie, so they'll show up in outrage and wind up pleasantly surprised by what is merely another Jason Statham movie.
Staff Writer at CinemaBlend
Your Daily Blend of Entertainment News
Thank you for signing up to CinemaBlend. You will receive a verification email shortly.
There was a problem. Please refresh the page and try again.