Six Christmas Movies Even Better For Grown-Ups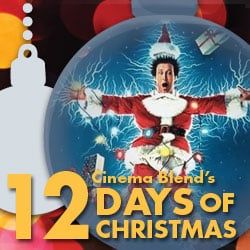 Every year you've got a friend who is convinced this is the year you'll finally get together, drink hot cocoa, and watch this or that childhood favorite Christmas movie. But how often are you really in the mood to revisit someone else's childhood anyway? Sure, you're welcome to your own nostalgic traditions, re-watching and re-watching How the Grinch Stole Christmas or those Claymation Rudolph the Red-Nosed Reindeer movies, but the movies that get even better now that we're grown-ups are the ones really worth revisiting with friends. So please, please, don't subject your friends to The Santa Clause this year, unless they too continue to share your affinity for Tim Allen. Instead check out one of these six classics to love, even when you don't spend Christmas Eve searching the sky for Santa.
I grew up with the Mickey Mouse version of the story myself, but I was thrilled this year to catch up with Kermit as Bob Cratchit, Gonzo as Charles Dickens, and, best of all, Michael Caine as Ebenezer Scrooge. The movie sticks closer to the original text than any other version of the story you'll see, and yet, it finds room for lots of sight gags involving Rizzo the Rat falling off of ledges, Miss Piggy bossing around her daughters as Elizabeth Cratchit, and the two cranky old men from the balcony tormenting Scrooge as Jacob and Robert Marley. If you loved the Muppets as a kid it's a bonus, but pretty much anyone will enjoy the gorgeous Dickensian sets, the buoyant songs (a major improvement on Mickey) and Michael Caine's ability to make Scrooge sympathetic even before the Ghost of Christmas Present warms his heart.
I could spend days talking up this movie, from the practically perfect screenplay from David Berenbaum to the way it indulges in the beauty of New York at Christmas time without overdoing it. But the best parts are pretty much everything both a kid and an adult will find funny-- the noise the kids make when they're hit by Buddy's snowballs, Buddy's breakfast of spaghetti, syrup, Pop-Tarts and M&Ms, or the fight he has with the "angry elf" played by Peter Dinklage. Oh, except for the lovely shower duet of "Baby It's Cold Outside" between Buddy and Jovie; something tells me that's a "kissy scene" that kids will reject, but grown-ups will appreciate even more when they're warm by the Christmas fire.
Even though music/celebrity editor Mack Rawden and I argued publicly over the merits of the sequel, we agree that Home Alone has a lot going on beneath the pranks and the aftershave gag. As Mack says, "Home Alone, the type of movie you wouldn't normally associate with subtle details, gets the McAllister family right." Because everyone has an Uncle Frank who's a cheapskate or a cousin Fuller who wets the bed, everyone fantasizes about, just this once, finally spending the holidays by themselves. But everyone also knows deep down how lonely that would be, so even though Kevin jumps on the bed and terrorizes the pizza guy and plays those pranks on Harry and Marv, all he really wants is his family for Christmas. Heady stuff for a kid's movie, but I promise it's there. I watch this one every Christmas, so if it's been a while since you went there, maybe this is the year to spend Christmas with the McAllisters.
TV Editor Kelly West and I both agree that the best parts of this Christmas classic have nothing to do with the holidays, really, but the moral lessons that all of us learn throughout our not-necessarily-wonderful lives. Kelly's favorite scene is the one where George Bailey is very, very close to coming to work for the meanie Mr. Potter, until he realizes just what a sell-out that would make him. "He' s a man of principles and he's willing to sacrifice the things he wants for himself if it means standing by what's right. I heart George Bailey." For me, while I love the dance scene over the pool, or George and Mary moving into their rickety old house, or Uncle Billy's antics, what always gets me is that final scene, where Clarence's message that "no main is a failure who has friends" finally rings true for George. The house fills with friends, a bell rings on the tree, and the wamth of Christmas practically jumps up out of the screen. It's a Wonderful Life is a great movie for about a million reasons, but as an example of how to actually turn out to be a good person, there's nothing better.
This is a movie worth appreciating as an adult not because of any resonating moral themes, secret sadness or fascinating narrative structure. You'll love this movie your entire life because it's funny as shit, and will never stop being so. Take your pick of gags. The squirrel in the Christmas tree! The crunchy turkey! The Jelly of the Month club! The light display you can see from space! Yes, all of these jokes come from real life but they're made way better than any of your Christmases by the presence of Chevy Chase, Beverly d'Angelo, and don't forget the snotty yuppie neighbors who deserve to have a Christmas tree fall through their window, goddammit. Christmas as a method for doling out justice to your crappy neighbors? What could sound better to an adult than that?
Here's the one movie on this list I guarantee you didn't snuggle up with your family to watch every Christmas (unless you grew up in some crazy cinephile family, in which case, I'm jealous). The Apartment is all about extramarital affairs, drinking problems, suicide and unbearable urban loneliness, but it's also one of Billy Wilder's funniest, and best, movies. It's Jack Lemmon and Shirley MacLaine before they become "old coot" icons, Fred MacMurray at his most corporate evil, and great one-liners and running gags... comedy-wise, that is. If you and your siblings are grown-up and no one has kids to entertain yet, please, please watch this movie, and find yourself filled with a different kind of Christmas cheer. The story also goes all the way up until New Year's, so you have extra time to watch it if you need it.
For more of Cinema Blend's 12 days of Christmas, click here.
Staff Writer at CinemaBlend
Your Daily Blend of Entertainment News
Thank you for signing up to CinemaBlend. You will receive a verification email shortly.
There was a problem. Please refresh the page and try again.