Slash Is Making An 80s Style Slasher Movie, Get The Details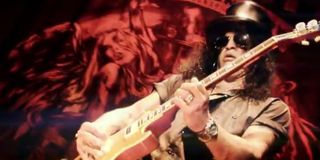 Guns N' Roses icon Slash has finally made the decision that everyone around him should have convinced him to do years ago: he's going to make a slasher movie. And the film will feature call backs to classic '80s films of the genre like Halloween and Friday the 13th.
According to The Hollywood Reporter, Slash, who used to play guitar for Guns N' Roses, has teamed up with Revolver Picture Company to produce and help bring to fruition a brand new horror movie that hopes to jolt new energy into the genre. And, clearly, Slash has big plans for the project, because, alongside the aforementioned studio, he has hired Brian Sieve to write up the film. Sieve has previously had some luck scribing the likes of Boogeyman 2 and Boogeyman 3, while Revolver Picture Company have been behind the likes of Beneath and Haunt.
It's been reported that Brian Sieve has now completed work on the script for the currently untitled horror flick. The problem is though, there's not too much more to say about the film, because Slash and the studio are keeping its plot under wraps for the time being. However, it has been revealed that the flick will hark back to the likes of Halloween and Friday the 13th, which in the late 1970s and throughout the 1980s helped to define the slasher genre.
But how did Slash become involved in the film business? Well, actually, this isn't the rocker's first dance with celluloid. Back in 2013, the axe-man made his debut as a producer on Nothing Left To Fear, which is unsurprisingly another horror movie, while he is also a producer on the upcoming The Hell Within, which has been written by Jeff Buhler and will ultimately be directed by Dennison Ramalho.
Because of Slash's love of slasher films, Revolver's Kelly Wagner and Nick Phillips decided to orchestrate a meeting between the trio. Phillips explained,
Kelly Wagner then added that their creative relationship was "serendipitous," before Slash explained that the studio's proposed idea "tied in perfectly with a theme" that he'd been working on for quite a while. Since then, the trio have been hard at work on the film, which has now been brought to fruition by Steve Bieve.
And both Slash and Revolver, who have huge ambitions to become a big player in the horror game, have faith that this film could take the studio to the next level and become a franchise of its own. In fact, while the studio have recently worked on the likes of Beneath, Haunt, Devil's Backbone, Texas, and the upcoming Pet, they're hopeful that this will have a larger budget and scope than its predecessors.