Soderbergh Directs A Porn Star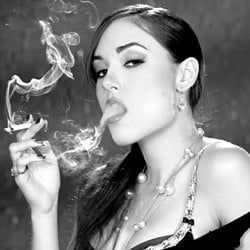 Steven Soderbergh is changing up the way he casts actresses. He has officially chosen a port star to headline his next indie flick, The Girlfriend Experience. The actress, Sasha Grey, has her hand in a little bit of every in the media, but is primarily a star the porn industry.
Variety reports that the two award winners will, indeed, work together. While Soderbergh has won an Oscar, Grey is the youngest starlet to be bestowed the Female Performer of the Year by Adult Video News.
Grey has shimmied her way through various portions of the media. She has acted and posed for the Smashing Pumpkins and The Roots, modeled for American Apparel and Richard Kern and sung with Lee "Scratch" Perry. She started out working on experimental movies and then transitioned to porn. She started in porn at 18 and, at 20, has worked on over 130 porno movies. However, she will star in three non-porn movies in 2009. She will soon count indie film Quit (Dick Rude), and horror movie Smash Cut, along with Soderbergh's film, on her growing resume.
In The Girlfriend Experience, Soderbergh will direct Grey in a role as a high-priced call girl. The film will be produced by Magnolia Pictures and written by Brian Koppelman and David Levien. Grey tells Adult Video News, "To have the opportunity to work for an Academy Award-winning auteur is truly a great honor. I've been an admirer of Soderbergh's films for years, and I am elated that I have been given a leading role in a character-driven film." Though the transition from porn to mainstream film rarely goes well (see Zombie Strippers), this young lady seems to have a chance.
Your Daily Blend of Entertainment News
Thank you for signing up to CinemaBlend. You will receive a verification email shortly.
There was a problem. Please refresh the page and try again.