Sofia Vergara Plays With Smurfs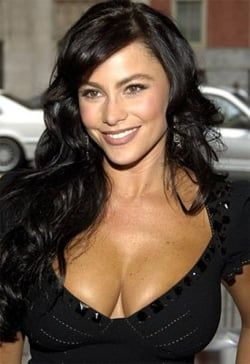 Raja Gosnell's upcoming live-action/animation hybrid adaptation of the classic Belgian cartoon The Smurfs has just picked up another star to fill one of the real-life roles in the film. Super saucy and super Colombian actress Sofia Vergara has signed on to play Odile, wife to Neil Patrick Harris and executive at a French cosmetics company.
THR doesn't list exactly how big the roles are for either of the above actors, but it can be assumed that at least Harris's role will be somewhat large considering just how ridiculous his popularity is right now. What also isn't touched on is if Vergara is going to be spouting off her lines in a French accent, which might be interesting considering just how Colombian she is.
Smurfs starts shooting next week, aiming for their July 2011 release date. Since we've already seen a poster for the film we should assume that animators are already hard at work putting the tiny blue people together, so that when filming is complete they can immediately be ready to start the long compositing process.
Also starring in one capacity or another are Quentin Tarantino, Jayma Mays, Kevin James, and Hank Azaria as Gargamel, plus a host of other recognizable names hoping to give this film a bit of a boost out of the "It's just an old TV show adaptation" realm. Here's hoping they have a solid script to work with and we don't have another Marmaduke on out hands (I know it's not even out yet, but man does it look terrible).
Catch Vergara on ABC Wednesday nights on the hilarious Modern Family. You will not be disappointed.
Your Daily Blend of Entertainment News
Thank you for signing up to CinemaBlend. You will receive a verification email shortly.
There was a problem. Please refresh the page and try again.