Southeastern Film Critics Name Their Favorites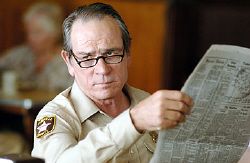 The Southeastern Film Critics Association has decided to throw a bunch more love at movies that are currently being orgasmed over by critics from coast to coast. The organization which consists of newspaper film critics in most of the states that tried to keep slavery going (Alabama, Arkansas, Florida, Georgia, Louisiana, North and South Carolina, Tennessee, and Virginia) named No Country For Old Men their best picture this year and Daniel Day-Lewis as best actor for There Will Be Blood. The awards don't hold much surprise from top to bottom, with Joel and Ethan Coen winning for both best director and best adapted screenplay for their violent modern Western, The Diving Bell and the Butterfly capturing the best movie where you can't understand what the actors are saying without subtitles, and Pixar's Ratatouille taking home the top animation prize. The Pixar win ignores that The Simpson's Movie was better, but I can't complain too much.
Other winners in the Southestern awards who have been showing up on multiple lists are No Country For Old Men's psychotic hit man Javier Bardem for best supporting actor and Amy Ryan for best supporting actress in Gone Baby Gone. I have no qualms with Bardem who steals the movie and Amy Ryan is a vet of The Wire, which means she deserves every accolade out there. Slightly surprising was the anti-America documentary No End in Sight winning over the anti-America documentary Sicko.
Unlike some critics' awards, the Southeastern gang lists their top 10 movies along with the awards. So in addition to the obvious inclusions below No Country for Old Men, like There Will Be Blood and Atonement, a few surprises sneak on. Not everybody thought The Assassination of Jesse James By the Coward Robert Ford was a long-winded bore fest, apparently. In fact, Casey Affleck's portrayal of the said coward ended up as the runner-up for best supporting actor to Bardem. The group also gives out the "Wyatt Award" for the movie that "captures the spirit of the South." The winner was Waitress, a cute movie as sweet as a piece of peach pie. The runner-up was Black Snake Moan, meaning that a black man chaining a nympho to a radiator is considered to "capture the spirit of the South." No comment.
Check the full list of winners:
Best Picture:
1. No Country for Old Men
2. There Will Be Blood
3. Atonement"
4. Juno
5. Michael Clayton"
6. Zodiac
7. The Assassination of Jesse James By the Coward Robert Ford
8. Gone Baby Gone
9. The Diving Bell and the Butterfly
10. Into the Wild
Best Actor: Daniel Day-Lewis, There Will Be Blood
Best Actress: Julie Christie, Away From Her
Best Supporting Actor: Javier Bardem, No Country for Old Men
Best Supprting Actress: Amy Ryan, Gone Baby Gone
Best Director: Joel & Ethan Coen, No Country For Old Men
Best Original Screenplay: Diablo Cody, Juno
Best Adapted Screenplay: Joel & Ethan Coen, No Country For Old Men
Best Foreign Language Film: The Diving Bell and the Butterfly
Best Documentary: No End in Sight
Best Animated Feature: Ratatouille
Wyatt Award: Waitress
Your Daily Blend of Entertainment News