The Spectacular Now: The Rare Sundance Coming-Of-Age Story That Feels Like It Matters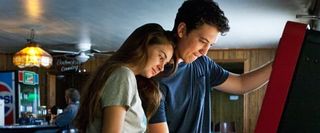 The most common of all Sundance Film Festival tropes, or at least the most exhausted, is the quirky romance between two attractive, young, mildly famous white people. It's easy to read that kind of plot description in the guide and roll your eyes, but then once in a while comes a movie like The Spectacular Now, a moving reminder that the genre just works, dammit. An adaptation of Tim Tharp's novel, stuffed with memorable characters and turns of phrase and authentic evocations of high school mania, The Spectacular Now is an instant MVP of the first half of the festival, with potential breakout hit written all over it.
Director James Ponsoldt was here at the festival just last year with the comedy-tinged alcoholism drama Smashed, but The Spectacular Now represents a major step up; Ponsoldt isn't just telling the story of another couple and the colliding forces that threaten to break them, but he's stepping up to rescue the entire genre of the high school romance. He's aided unbelievably well by Miles Teller in the lead role of Sutter Keely, a popular kid fresh off a breakup who pursues an unlikely romance with quiet, sci-fi-obssessed Aimee (Shailene Woodley). Teller turned in two fierce scenes opposite Nicole Kidman in Rabbit Hole, and was easily the best part of the Footloose movie, but he turns in a star-making performance here as a boy constantly putting himself in the social spotlight to avoid feeling much of anything else. Teller pops with charisma in nearly every scene, but as the film turns darker near the end, Teller's courage in baring Sutter's soul brings the movie to a new level, and himself toward what ought to be a huge career.
The story of The Spectacular Now starts simply, an unlikely romance between a popular boy and an unpopular girl, but it shows its young adult novel roots as it expands much broader, to Sutter's troubled relationship with his absent father, to Aimee's thwarted dreams of going to college, and to a series of adults in Sutter's life-- played by the wonderful likes of Bob Odenkirk, Andre Royo, Mary Elizabeth Winstead and Jennifer Jason Leigh-- who just want to see him do something that matters. That much plot can make The Spectacular Now feel a good bit longer than its 90 minutes, but it's also never rushed or overstuffed, and manages a remarkably smooth turn toward drama in the second act. It's a little surprising to see the story start as a romance and become largely about Sutter's coming of age, but this is that rare, rare Sundance movie about a young man's personal struggles that also feels like it matters.
Films like this one are especially susceptible to the Sundance fever, where audiences go nuts for something here in Park City and completely ignore it at ground level. But The Spectacular Now has all the makings of a huge hit (it's not written by 500 Days of Summer's Michael H. Weber and Scott Neustadter by accident). At the very least, it proves that Woodley's vulnerable performance in The Descendants was no fluke, and sets up Teller as easily one of the best actors of his age-- though at 25, it's probably now time for him to step out of playing high-schoolers. The Spectacular Now is probably in the middle of a heated bidding war as we speak, and director Ponsoldt is already on board to direct another huge project; you'll be hearing a lot about this one down the road, and it's got the goods to live up to the hype.
Staff Writer at CinemaBlend
Your Daily Blend of Entertainment News
Thank you for signing up to CinemaBlend. You will receive a verification email shortly.
There was a problem. Please refresh the page and try again.