Spielberg Double Feature: Catch Me If You Can, Minority Report, And Defying Genre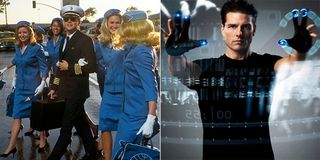 With Jurassic Park coming back to theaters this week, we're looking back at the years when Steven Spielberg released two films, and how those films reflect on each other. Earlier this week Sean dug into 1993's double feature, Jurassic Park vs. Schindler's List, Kristy tackled 1989's Always and Indiana Jones and the Last Crusade, and Katey took on 2005, when Spielberg released Munich and War of the Worlds. In today's final installment, Eric compares Catch Me If You Can and Minority Report.
One of the most interesting tonal shifts of Steven Spielberg's career came in 2002 when he made both Minority Report and Catch Me If You Can. In his double film years, Spielberg has notably always balanced the more fun, adventurous sci-fi/fantasy movies – like Jurassic Park, The Adventures of Tintin and Indiana Jones and the Last Crusade - with more serious, Oscar-oriented films – like Schindler's List, War Horse, and Always. It's a special twist on the Hollywood philosophy of "one for me and one for you" – where an artist gives up a bit of their integrity in one deal to make a big money-making picture in order to get a passion project made – as Spielberg is one of the few directors who has always maintained his artistic credibility even while going through the studio system, and earned respect on both sides.
But what makes his 2002 pairing such an interesting one is the way in which the director completely swapped tones between his summer and winter pictures, his Philip K. Dick adaptation being far more serious and dark than his tale true of a conman on the run.
As a pair, it's interesting to see how both films actually tie together in terms of common themes and story elements. As follow-ups to A.I. Artificial Intelligence, the movies are the latter two-thirds of Spielberg's unofficial chase trilogy, with the common thread of characters being on the run from the authorities, but also match as titles that reflect on false perceptions of reality and trust. John Anderton (Tom Cruise) puts his faith in the visions of the pre-cogs only to see it corrupted through echoes and minority reports, while Frank Abagnale Jr. (Leonardo DiCaprio) lives his life pretending to be someone else and taking advantage of the faith that people have in him. Both also play with damaged, anti-hero protagonists, thanks to John's drug addiction due to the loss of his son and Frank's less-than-legal way of making a living. The starkly different ways thatSpielberg approaches each one, however, is what makes them such an interesting pairing.
Coming from the same director who brought us E.T. the Extra-Terrestrial, Minority Report is a surprisingly dark piece of science-fiction. The movie does have touches of more fun, action elements, such as the sequence in the car building factory and John's battle against a jet-pack wearing SWAT team, but overall is a terrifying, bleak, cynical look at our future. The rot in society is most evident when John travels to the slums to score some drugs and later when he visits the most horrific doctor's office in the world to get his eyes switched out, but it's just as evident in the bright and shiny cityscapes.Spielberg and cinematographer Janusz Kami?ski fill these areas with blooms and bright lights as a means to mask the darkness, but it's never able to completely cover the ugliness of a world taken over by advertisements and technology that allows people to live out the fantasy of murdering their boss in a digital environment.
Catch Me If You Can, by contrast, actively takes what should be dark elements and turns them into escapade. The people that Frank bilks on a regular basis are legitimate victims, but the film operates as poppy fun, striking a tone somewhere in between Frank Capra and Howard Hawks. There are consequences demonstrated, but there's also no question as to who the director wants the audience cheering for - even the title comes from something children shout to each other while playing a game of tag. The movie doesn't exist against what we expect from Spielberg, who has many lighthearted romps on his resume, but it's interesting to see him do it with material that could just as easily be adapted as a high-tension crime thriller.
While Spielberg had been developing Minority Report for years, diligently planning out the look of the science-fiction world, he was initially only planning to produce Catch Me If You Can, coming aboard as a director when the production schedule was pushed and Gore Verbinski was no longer available for the job. It was by happenstance that the two films would up coming together at the same time and released during the same year, but all the same, they both perfectly illustrate what makes him such a great filmmaker. He regularly defies expectation and comes up with something surprising, interesting and different with each new movie, and in 2002 he did just that.
NJ native who calls LA home; lives in a Dreamatorium. A decade-plus CinemaBlend veteran; endlessly enthusiastic about the career he's dreamt of since seventh grade.
Your Daily Blend of Entertainment News
Thank you for signing up to CinemaBlend. You will receive a verification email shortly.
There was a problem. Please refresh the page and try again.