Stan Lee Is Larry King In Iron Man 2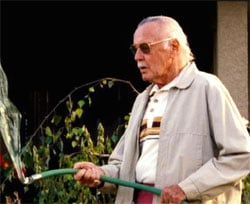 Stan Lee is the father of Marvel Comics and even though he no longer owns the company, he still seems to find a way to show up in nearly every Marvel movie. In Spider-Man he saved a little girl from falling rubble. In Fantastic Four he's Reed Richard's mailman. In Iron Man he plays Hugh Hefner during a red carpet scene with Stark.
Iron Man 2 is no different. Stan has another awesome cameo coming and Collider may have the scoop on what his part could be in Jon Favreau's next movie. It's his weirdest yet.
Their sources claim that Stan will play Larry King. Word is that Lee actually filmed his cameo earlier this week, and when he did it they dressed him up like Larry and had him pestering Tony Stark for an appearance on his show. Other sources also report that they have a scene planned in which Stark actually appears on Larry King, with Stan still in character, and questioning him about his new, black Iron Man suit.
It's a minor part, Larry King isn't the new War Machine or anything, but for fans of the Marvel Universe it's always nice to know that Stan will be there, in the film, having a blast.
Take a quick look back at all of Stan Lee's Marvel movie cameos, in the embedded compilation video below. Excelsior!
Your Daily Blend of Entertainment News