Star Trek Into Darkness Reveals 9 Minutes On IMAX December 14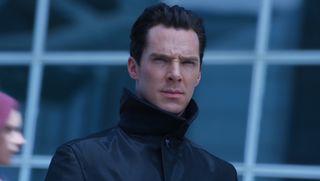 (Image credit: Paramount Pictures)
One of the biggest blockbusters of next summer is also, for now, one of the most secretive. J.J. Abrams's Star Trek Into Darkness, which is set to come to theaters on May 17 next year, has yet to reveal a single poster, official image or trailer-- the closest we've come is the teasing three frames that Abrams revealed on Conan a few weeks ago. You might expect that the busy holiday moviegoing season would finally be the right time to reveal a bit of Trek, but as it turns out, Abrams and Paramount are taking it a step further than that.
In an effort similar to the previews of The Dark Knight Rises that popped up last December, Star Trek Into Darkness will unveil its first 9 minutes on 500 IMAX screens across the country on December 14. The previews will be in 3D, which suggests they could be attached to screenings of the 3D The Hobbit, a huge movie with a similar audience to Star Trek's-- and which opens on December 14. It's unclear if Star Trek Into Darkness will also have separate preview screenings, but I imagine most people will see it in front of The Hobbit.
Though the Dark Knight Rises preview successfully drummed up interest for the superhero film, especially for its stellar IMAX photography, it also faced some backlash from audience members who couldn't make out a word that Tom Hardy's Bane was saying. Those complaints seemed to drown out the more positive responses, and you have to imagine Abrams and company are worried about some similar error overshadowing the splashy first glimpse of their movie. Then again, Hollywood tends to learn from its mistakes-- so if the notoriously finicky Abrams is revealing 9 minutes of his movie, you can probably guarantee it will be flawless.
We'll be as anxious as you are to get our first look at the sci-fi sequel come December, so keep an eye out around then for a full report in case you can't make it yourself!
Your Daily Blend of Entertainment News
Staff Writer at CinemaBlend