Star Wars Stuntwoman Will Lose Arm After Tragic Accident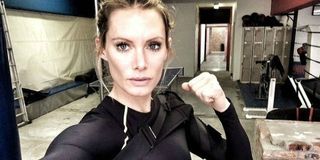 Olivia Jackson, a stuntwoman who most recently appeared in Star Wars: The Force Awakens, will have her arm amputated after an on-set accident while filming Resident Evil: The Final Chapter. The accident was so severe that the film's star Milla Jovovich insisted that it was "a miracle" she survived at all.
Jackson, whose Instagram account shows just how eclectic her skills as a stunt woman are, was involved in the accident back in September while filming on the upcoming Resident Evil film. The accident took place in her homeland of South Africa. It's been reported that she struck a metal camera arm while she was filming, which then left her in a medically-induced coma for two weeks. Jackson's injuries to her arm were so severe that she's now confirmed to The Sun, via Yahoo, that it will now have to be amputated.
After a brief recuperation following her withdrawal from a coma, Olivia Jackson took to Facebook to reveal the full extent of her injuries, including the revelation that she'd lost a thumb in the accident. She didn't stop there though, as Jackson confirmed that as well as her fortnight in a coma, she'd suffered swelling and bleeding of the face, a severed main artery in the neck, and a crushed and degloved face.
Even that was far from it, though, as Jackson continued that she'd broken her humerus, clavicle, radius, ulna, several ribs, and that a 7.5 inch piece of bone had gone missing, while to round everything off she had 5 nerves torn out from her spinal cord too. Writing as part of her Facebook post Jackson admitted that it wasn't her "funnest day on set."
Afterwards Milla Jovovich, the leading actress of the Resident Evil films who Jackson was working as a stunt woman for, spoke about the accident. After insisting that it was "a miracle" that Olivia Jackson had somehow survived it, Jovovich then added that the cast and crew had been sending well wishes her way "because she truly needs it."
Olivia Jackson's career has included work on a number of huge blockbusters over the last 18 months. She worked as the stunt double for Karen Gillan on Guardians Of The Galaxy, Gwyneth Paltrow on Mortdecai, Elizabeth Olsen on Avengers: Age Of Ultron, and Rosie Huntington-Whiteley on Mad Max: Fury Road, as well as her performances in Star Wars: The Force Awaken, Cinderella, and Resident Evil: The Final Chapter. This is a tragedy, and we wish her the best in what we hope continues to be a successful movie career.
Your Daily Blend of Entertainment News
Your Daily Blend of Entertainment News
Thank you for signing up to CinemaBlend. You will receive a verification email shortly.
There was a problem. Please refresh the page and try again.