Stardust Goes Image Crazy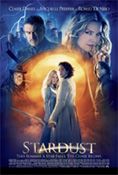 Paramount has sent over a bunch of new images for their upcoming Stardust, the movie based on Neil Gaiman's book from Matthew Vaughn. The more I see of this movie, the more I want to see it, and while I know it's not considered to be Gainman's best novel, I'm still terribly excited about it.
Take a look at some of the thumbnail images they've sent below Click on them to go to larger versions in our Stardust image gallery where you'll not only find today's new pictures, but a bunch of other images that have been sent out over time.
Stardust opens in theaters August 10th.
Your Daily Blend of Entertainment News