Stark Sands Joins Coen Bros' Inside Llewyn Davis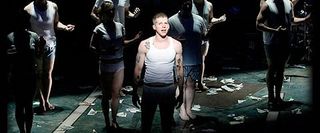 The Coen Brothers have crafted such a diverse and distinguished filmography that every new movie of theirs is inevitably one worth anticipating. As such, we've been following casting news on their next effort, Inside Llewyn Davis, very closely. First they selected stalwart supporting player Oscar Isaac (Sucker Punch, Robin Hood) to shoulder the film's title role and lead, an aspiring singer-songwriter who journeys through 1960s New York's heady folk music scene. Then came word that omnipresent ingénue Carey Mulligan would take on the female lead, with pop star turned dynamic supporting player Justin Timberlake playing her onscreen husband. Then recurring Coen collaborator John Goodman joined the cast, along with F. Murray Abraham and theater actress Jeanine Serralles. Then, just last month Tron's Garret Hedlund came aboard, and now, with the film in production, word has broken that another rising star has signed on.
Deadline reveals that Stark Sands, who co-starred in the Emmy-winning HBO war-drama mini-series Generation Kill, has fittingly agreed to play a young soldier on leave in Llewyn. While in the City, his character stumbles across the folk scene of Greenwich Village and displays the musical skills he woefully can't explore as a soldier. Sands is sure to shine in his musical performance scenes, as he recently co-starred in Green Day's American Idiot on Broadway, playing a musician who joins the military and is sent off to war. So, the kid has a type.
Part of the joy of every Coen Bros' feature is the curious cast they compile, and true to form Inside Llewyn Davis is being stocked with intriguing performers. The fact that many of them will sing makes it all the more intoxicating, especially as the Coen's O Brother, Where Art Thou? proved not only to be an extraordinary movie, but also an incredible soundtrack experience. Inside Llewyn Davis seems destined for this same lofty level of greatness. Between this and Can a Song Save Your Life?, it's shaping up to be a pretty marvelous time for movie musicals.
Staff writer at CinemaBlend.
Your Daily Blend of Entertainment News
Thank you for signing up to CinemaBlend. You will receive a verification email shortly.
There was a problem. Please refresh the page and try again.