Steve McQueen's Twelve Years A Slave Adds Pariah Star Adepero Oduye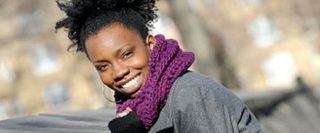 Adepero Oduye gave one of the best and least-seen performances of 2011 in Pariah, the indie feature that premiered at Sundance and won the Excellence in Cinematography Award. It was released by Focus Features in the tail end of the year, and the film itself and Oduye's performance were both overshadowed by bigger, flashier films-- par for the course with most indies, sadly. But Oduye's performance clearly got noticed by the right people, as evidenced by both a shoutout from Meryl Streep during her Golden Globes acceptance speech, and now, a role in a film from the director of one of 2011's other criminally underseen movies.
According to The Playlist, Oduye will star opposite Michael Fassbender, Chiwetel Ejiofor and Brad Pitt in Twelve Years A Slave, the next feature from Shame and Hunger director Steve McQueen. It tells the true story of a free black man (Ejiofor) who winds up back in slavery in Louisiana, at a plantation owned by Fassbender's character. In the script the man's wife hires a lawyer (Pitt) to fight for her husband's freedom, and it seems safe to assume Oduye will be taking on that role.
McQueen's previous films mean anything he makes is an obvious must-see, but Twelve Years A Slave seems particularly fascinating, for the caliber of talent he's attracted, for the extent to which it's a departure from his previous films that were almost character studies, and for the fact that he's digging into America's complicated history of slavery both as an Englishman and a black man. It's a huge challenge to be sure, but at this point McQueen seems more than capable of it. As, for that matter, does Oduye, who now has the chance to get more people than just Meryl Streep to stop and take notice.
Your Daily Blend of Entertainment News
Staff Writer at CinemaBlend