Stretch Armstrong's Death Means The Era Of Movies Based On Toys Is Truly Over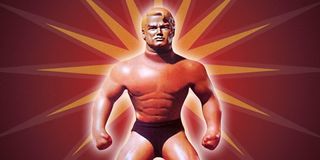 The era of toys becoming movies may finally be coming to its end. Yes, we still have Transformers and G.I. Joe franchises out there, but studios finally seem to be getting the message that you really can't just transform any toy into a hit. Relativity Media and Hasbro have given up and put their Stretch Armstrong movie on ice, according to The Hollywood Reporter. In a statement the two companies boast of their "tremendous relationship" and their plans of "continuing to work together," and even promise that Stretch Armstrong is "an incredible character who will make an amazing movie." But for an adaptation that's been in the works for many years with no actual progress, this sure looks like a final nail in the coffin.
Though Battleship will probably always be the ultimate example of what happens when toy executives and studio heads get way too high on themselves, the continued failed development of Stretch Armstrong shows you what happens when a single franchise-- Transformers-- is seen, wrongly, as the start of a trend. When the Stretch movie was first announced in 2009 it was a year after Hasbro and Universal made a deal to develop movies based on Hasbro games, and everything from Monopoly (with Ridley Scott directing!) to Candy Land to Ouija (directed by McG!) seemed like a good idea. Battleship was the only one of those movies that Universal actually made, and in early 2012 the studio paid many millions of dollars in penalties to not have to make those movies they'd already spent millions to develop. It was a bad omen for Battleship's arrival, but still probably a good bet for Universal-- they had jumped hardest on the toys-as-movies bandwagon and paid dearly for it.
Just before ending their deal with Hasbro, Universal shed some of their game-movie projects to other studios, with Sony taking on Candy Land as an Adam Sandler vehicle and Relativity taking on Stretch Armstrong. There hasn't been a word about Candy Land since Sony took it over, but Relativity had seemed way more bullish on Stretch, setting an April 11, 2014 release date and hiring Breck Eisner to direct. That was over a year ago, just a month after the release of Battleship-- maybe it was a bit too early for them to realize they had arrived at a party that was already over .
With Taylor Lautner at one point attached to star, Stretch Armstrong is the perfect emblem of the turn-of-the-decade state of Hollywood, when toy movies suddenly seemed like the future, and when studios sought out brands they could own and mine for content for decades (i.e. Disney and Marvel/Star Wars). In that way it's probably far more interesting as a failed project than it ever would have been as an actual film.
Your Daily Blend of Entertainment News
Staff Writer at CinemaBlend