Summit Picks Up James McAvoy And Seth Rogen's Cancer Comedy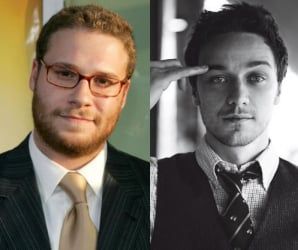 The most secretly powerful studio out there, Summit Entertainment is still trying to figure out what to do with its gobs of Twilight cash, and inexplicably decided not to spend that money on marketing The Hurt Locker to audiences. Maybe they'll make up for it, though, with the movie formerly known as I'm With Cancer-- a.k.a., the Seth Rogen/James McAvoy cancer comedy that everyone in their right mind is looking forward to.
THR is reporting that Summit has picked up the film, which will be directed by The Wackness's Jonathan Levine. Bryce Dallas Howard has also come on board, playing an unspecific role. Summit President Erik Feig said of the film, "It's rare to find a script that has you laughing and crying in equal measure or a cast and director as perfectly suited to get the tone of this unique and moving film as perfectly right."
I don't really know what else to say about the film other than "I can't wait to see it" and "Please get this made soon so I can watch it." If I'm With Cancer, or whatever they wind up calling it, turns out to be an Oscar-caliber thing, maybe Summit can learn from their Hurt Locker experience and give it the push it deserves. Talking Oscar about a movie that hasn't even started filming yet is foolish unless it's directed by Clint Eastwood, though, so let's table these thoughts for a few months.
Your Daily Blend of Entertainment News
Staff Writer at CinemaBlend