Sundance: Chris Pine And Alan Rickman Talk Bottle Shock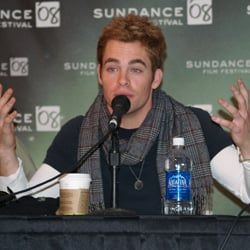 It's Day 3 of the Sundance Film Festival and once again, Leanne and I had the opportunity to sit in at a press conference. This one was for the film Bottle Shock. As the film has a number of known actors in it, we were pretty eager to see who would turn up at the conference. Due to technical difficulties, the press was asked to wait outside the conference room (which was actually a tent set up just outside the Yarrow hotel) while they got things fixed. Leanne and I got situated near the door and this afforded us the opportunity to see the various cast members of the film walk right by us.
I'd like to pretend as though I was unfazed by the sight of actors like Alan Rickman, Eliza Dushku, Freddie Rodriguez, Chris Pine or Bill Pullman as they walked by me but let's face it: I may wear a press badge on the outside, but on the inside I was squeeing like a dorky fangirl. Rachael Tayler, who is also in the film was present as well. You might remember her from her role as the hot blonde Aussie tech-geek in Transformers.
We were eventually let into the tent, which was surprisingly warm and the conference got started fairly quickly. In addition to the actors I just listed, also present at the conference were Randall Miller (director), Jody Savin (co-writer), Ross Schwartz (writer), Mark Adler (composer) and Bo Barrett (the professional winemaker whom Chris Pine portrays in the film).
Bottle Shock is based on a true story about a vineyard in Napa, California and the role it's owners played back in the 70's in changing how California wine was perceived by the rest of the world. So needless to say, a lot of what was talked about at the press conference centered on wine culture and how much things have changed for American-made wine over the last few decades.
Bo Barrett, who as I mentioned, is one of the winemakers who played a key role in the story that's told in Bottle Shock had this to say about the wine industry and the impact this film could have, " What's important is, as prohibition goes away, the generations of our kids that are drinking wine – that this story gets told again. This is actually from our perspective – from a wine industry perspective, as the NASCAR people start to drink wine and that great middle America that's never even touched it other than maybe at a Bar mitzvah or a wedding or something. They're going to learn something from this movie.".
It was evident by the way the cast interacted with each other during the press conference that they all got along fairly well and enjoyed making the film. When asked about their opinions and knowledge of wine in general, Rickman said wine is a "glorious, glorious drink." Pullman's knowledge of wine was somewhat limited but he proved he knew one of the rules of wine-drinking when he said, "The only thing I really know about wine is that you shouldn't mix it with beer. I learned that in college and it's true. It's really hard to do that so I've tried to just stick with that knowledge."
While the bulk of the conversation focused on wine making and drinking, the subject of the writers strike came up briefly. When asked if he would cross the picket line if he was nominated for an Oscar, Rickman said "It's so not going to happen." with a smile and then added that he doesn't believe in crossing picket lines. Bill Pullman, who was asked the same question agreed with Rickman. Meanwhile Chris Pine answered a question regarding his upcoming role in the new Star Trek movie. When asked if he's prepared to deal with the pressure of playing Captain Kirk, he said, "I'm having a great time. It's a lot of fun. JJ's wonderful. I haven't really thought that far ahead just because I'm neurotic and just try to concentrate on the day to day thing. That kind of keeps me in check. Whatever happens will happen. I have no control over it. All I try to do is good work and that's that."
After the conference ended, Leanne and I lingered around to get some pictures. Freddy Rodriguez, who seemed pretty subdued throughout the whole thing and Alan Rickman, whose dry sense of humor had us all chuckling throughout the conference, were nice enough to let me snap a picture of them. We also hung back to wait for Chris Pine (whom I'll admit, I've had a crush on since the Princess Diaries sequel) to be available for a photo as well. While we were waiting, I chatted briefly with Bill Pullman. He grew up in the same town as my husband so we talked for a minute or two about that. Seeing as he almost always plays the nice guy in movies, I wasn't surprised at all to see that he really seems like a genuinely nice man in person as well.
After snapping a few pictures of Pine we approached Eliza Dushku to see if she had a minute to chat with us about her upcoming work. As a fan of all things Whedon, I had to ask her if she had any updates on the new series (Dollhouse) that she's working on with him. Unfortunately, due to the writers strike the project has been at a standstill. I asked her if there was a goal premiere date set for the series and she referenced the writers strike by saying "The goal is for people to start playing nice sooner rather than later." Despite the fact that the development of the project has been halted, Dushku has been preparing herself for the role. I asked her if she was doing any training for her role in the series and she said, "I definitely realize that my body in motion is my body how I like it. So I've been in a lot of motion and getting ready in a lot of ways. So when it comes, it's going to be explosive."
Below are some of the pictures Leanne took during the conference.
Your Daily Blend of Entertainment News
Assistant Managing Editor
Kelly joined CinemaBlend as a freelance TV news writer in 2006 and went on to serve as the site's TV Editor before moving over to other roles on the site. At present, she's an Assistant Managing Editor who spends much of her time brainstorming and editing feature content on the site.