Sundance Review: Shouting Fire: Stories From The Edge Of Free Speech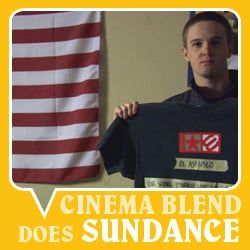 Shouting Fire: Stories from the Edge of Free Speech explores free speech in America by addressing contemporary cases in which the First Amendment has played a very significant role. The documentary not only looks at how free speech has been challenged in our country, but also how willing or unwilling Americans are to give up civil liberties in exchange for national security in a post-9/11 era.
Filmmaker Liz Garbus speaks with her father, First Amendment attorney Martin Garbus as part of the narrative for the film. Garbus takes us through the era of McCarthyism as well as other pivotal times in our nation's history when the First Amendment was put to the test, using his own personal experiences as well as other historical references to lay out the story. The film also cites various cases from recent years, including Ward Churchill being fired from his job as a professor at the University of Colorado after he wrote in a blog post that the people who died in the World Trade Center were, "a technocratic corps at the very heart of America's global financial empire" and calling them "Little Eichmanns."
Another case explored is Debbie Almontaser's story. She's a Muslim-American woman forced to resign from her job as Principal of New York City's first dual-language Arabic/English school after things she said with regards to the word "intifada" were taken out of context by the press. And then there's Chase Harper, the kid from San Diego who was suspended after showing up at school wearing a t-shirt that included a bible quote and the words, "Homosexuality is Shameful." The film also includes protesters Ruth Benn and Ed Hedemann, who were arrested along with more than a thousand other protesters assembling in New York City during the 2004 Republican National Convention.
Between Garbus' stories and the cases mentioned above, we're given a pretty decent variety of examples to demonstrate the issues surrounding our First Amendment rights. What's interesting is seeing just how much 9/11 has impacted the way Americans view the First Amendment. In addition to showing news footage and the like from each specific case explored in the film, Ward Churchill, Debbie Almontaser, Chase Harper, Ruth Benn, Ed Hedemann as well as others are all interviewed to give their personal perspectives on the cases and in some instances, to make sure their side of the story is heard. Garbus also uses clips from popular movies like Mr. Smith Goes to Washington, All the President's Men and even The Big Lebowski throughout to emphasize things being discussed.
There are times during Shouting Fire when I wondered if Garbus may have gotten a bit too caught up in the specific details pertaining to the cases being addressed, but at the same time, it makes sense that she would put so much effort into laying out the context of the issue before addressing how it related to Free Speech. Yet it's far too easy to be distracted by things like Ward Churchill's opinions on 9/11 and forget that the point of the documentary is not about what he's saying but about whether or not he should be allowed to say it in the first place.
If you believe in free speech Shouting Fire is something you have to see, if only to get a better understanding of how just how important it is.
Assistant Managing Editor
Kelly joined CinemaBlend as a freelance TV news writer in 2006 and went on to serve as the site's TV Editor before moving over to other roles on the site. At present, she's an Assistant Managing Editor who spends much of her time brainstorming and editing feature content on the site.
Your Daily Blend of Entertainment News
Thank you for signing up to CinemaBlend. You will receive a verification email shortly.
There was a problem. Please refresh the page and try again.