Sundance Review: Taking Chance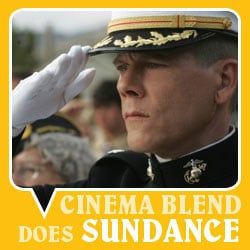 Viewers with ties to the military, or an obsession with the burial practices of the Marine Corps may find something interesting in Taking Chance, but for anyone else it's a tedious 85 minutes of Kevin Bacon saluting.
Bacon plays Lt. Colonel Michael Strobl, a Marine working a desk job as an analyst and carrying around a lot of unnecessary guilt. While his buddies fight it out in Iraq, he rides a cubicle crunching numbers for military commanders who won't listen to him. At night he sits in bed combing through casualty records, until he stumbles on the name of a dead soldier from his home town of Clifton, Colorado. Though he doesn't know the deceased, Strobl volunteers for escort duty. It's now his job to accompany the boy's body home, delivering his coffin and his personal effects to bereaved parents.
Along the way Taking Chance subjects us to every minute detail of the military's body dispensation traditions. Bacon's job is, primarily, just to go wherever the body goes and salute it as it's loaded and unloaded. The film drags the coffin's journey from military post to funeral home out as long as possible, allowing Bacon more and more opportunity to salute, look deeply affected, and receive the extreme adulation of every person he encounters on his trip.
It doesn't take long for Taking Chance to cross the line from patriotic and affecting into cloying and desperate. This is a film frantic for tears and nationalistic fervor that, unfortunately, it just hasn't earned. Simply dragging a flag over a coffin and showing sad parents is not, in and of itself, enough to get your audience invested. Watching Taking Chance is like saying the pledge of allegiance at a ballpark and then being expected to hug your buddy and sob after "justice for all". For most people, that's just not going to happen.
Your Daily Blend of Entertainment News
Thank you for signing up to CinemaBlend. You will receive a verification email shortly.
There was a problem. Please refresh the page and try again.