Sylvester Stallone To Play A Mob Killer In Scarpa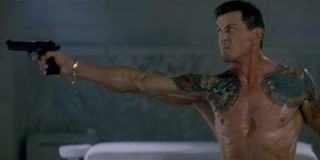 Whether he likes it or not, Sylvester Stallone is going to get out of the action movie business soon. The Expendables 3 is probably his swan song in that particular franchise, and he might be planning one last Rambo. After that, the smart move may be to transition to character work in stuff like Reach Me, playing older mentor types. But why not throw in a nasty bit of gangster stuff while we're at it?
Deadline claims Stallone is re-teaming with his old friends at Millennium Films for Scarpa, a gangster drama that could start shooting early next year. From writer Nicholas Pileggi (Goodfellas), this true-crime story may have Stallone playing Gregory Scarpa, a former mob hitman who claimed he killed fifty men before dying in incarceration in 1994 of AIDS-related complications.
Scarpa was a pretty nasty guy, though some people feel that way for different reasons. The world, especially the law enforcement world, knows him as a murderer who very likely killed his own biological family. As "The Grim Reaper", he disposed of enemies for the Colombo mob family, though he also apparently called himself "The Killing Machine" (guy, you've already got one creepy nickname, no need to give yourself two). Of course, later in life he rolled over, becoming an FBI informant, so, you know, spoiler alert. So Stallone is playing someone with both something of a moral arc as well as an ego: he should trade notes with Michael Shannon, who played mob capo Richard Kuklinski in Millennium's The Iceman. Or maybe Ray Stevenson, who played the invincible mob enforcer Danny Greene in Kill The Irishman. They make this sort of movie a lot.
The director of choice is Brad Furman, who is likely licking his wounds after last year's poorly-received Runner, Runner. This is just the latest opportunity for Furman to work with an Expendable. He was in talks with Arnold Schwarzenegger to make his big comeback vehicle Cry Macho, which as of now remains unmade. Still, Furman turned heads with 2011's The Lincoln Lawyer, which is likely going to be his calling card in regards to studios looking for a competent shooter that's not going to rock the boat. He does have a solid collaborator in Pileggi, however: the scribe was Oscar-nominated for adapting his own book Wiseguy: Life In A Mafia Family into Goodfellas, and later wrote the book Casino: Love And Honor In Las Vegas, which became Martin Scorsese's Casino. Pileggi's involvement suggests something a bit more substantial and dramatic, so hopefully this isn't going to be some fly-by-night program doomed to sleepy Sunday afternoon viewings. And hey, who knows... maybe a hint of Oscar gold for Stallone? Stallone's already-questionable acting skills have eroded over the years, and he's probably not capable of another Copland. But all it takes is one well-written role...
Your Daily Blend of Entertainment News
Thank you for signing up to CinemaBlend. You will receive a verification email shortly.
There was a problem. Please refresh the page and try again.