Sylvester Stallone Wants Sigourney Weaver For Expendables Female-Fronted Spinoff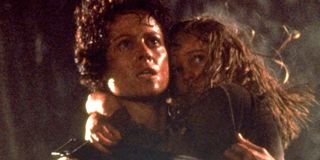 The Expendables 3 is gearing up to charge into theaters with a sprawling, testosterone-fueled cast that includes Sylvester Stallone, Jason Statham, Arnold Schwarzenegger, Dolph Lundgren, Wesley Snipes, Randy Couture, Harrison Ford, Kelsey Grammer, and Antonio Banderas. But could the future of this franchise be female?
The idea of an "Expendabelles" movie has been floating around for a while now, but at the London premiere of The Expendables 3, Stallone suggested who he'd like to see star. None too surprisingly, he named Sigourney Weaver. However, how he suggests she'd fit into the franchise is a little less than inspiring.
THR reports that Stallone proposes Weaver play his onscreen ex-wife, who maybe in the divorce won the estrogen-producing half of his team. "So she'd get the house, the kids and my mercenaries!" he offered.
Excuse me a moment.
Stallone also said, "With The Expendabelles, we've got a situation where we're in unchartered waters. Do we put all women actresses together? Would that really work? Or do we have some women who are actually really known to be tough fighters."
Frankly, I don't get why this is so perplexing to Stallone. It sounds like he fears people won't see a female-fronted action movie. Apparently he's been too busy with The Expendables franchise to take notice of The Hunger Games, The Heat, Maleficent or Lucy's success. But this isn't the first time The Expendabelles has offered an eye-roll-inducing plotline.
Despite early rumors that Millennium was looking for a female helmer for this could-be spinoff, they ultimately went with Robert Luketic, who made the incredibly sexist rom-com The Ugly Truth. (Bad omen number one!) Then, came the plot synopsis that demanded "some of the world's deadliest female operatives must pose as high-class call-girls shipped in by private plane to satisfy a dictator–and instead save the scientist and the day."
Not that The Expendables movies have felt the need to make sex objects of their male heroes. But if you're going to have powerful women, they need to dress like hookers, right?
It's unclear at this point how this "high class call-gril" plot might dovetail with Stallone's tipped divorce plot. But after years of hoping The Expendables would bring Sigourney Weaver into their fold, I'm hoping she turns them down. It doesn't sound like anyone involved this project realizes its potential. And as it stands now, this movie isn't worthy of Sigourney Weaver's talents.
While Millenium has been dragging their feet on Expendabelles, Asylum--the makers of Sharknado--have churned out their own female ensemble actioner with Mercenaries. While it's decidedly low-budget, the pic pulls together Terminator 3: Rise of the Machine's Kristanna Loken, Death Proof's Zoe Bell, Sharknado: The Second One's Vivica A. Fox, Red Sonja's Brigitte Nielsen, and Undefeatable's Cynthia Rothrock. And it doesn't even have some title that tips it's about vagina-havers!
Could this mockbuster actually turn out better than Expendabelles? We'll know more when Expendabelles gears up for production at the start of next year. Mercenaries, meanwhile, hits DVD on October 14th.
Staff writer at CinemaBlend.