Take Cover, The Twilight Cast Tour Is Back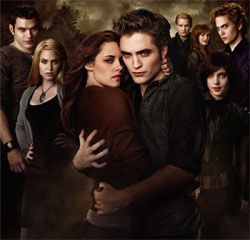 Last year, I hit the mall down the street from my house, just to get some ice cream. That's when I learned about the sheer magnitude of one Robert Pattenson. As I TRIED to get into the double doors of Orland Square Mall in Chicago... I had to shove my way though a crowd of emo-goth chicks. As I did so, I caught a look at the man they all so wanted so much. I was disappointed. Up your standards America, there are plenty of hot douchey guys out there, that's the American way! Am I right?
Well, clearly I'm not and this is going to happen year after year until we're old and gray. Hot Topic is back with their rape you in the ass wristband scam, the Twilight Tour . Buy an overpriced t-shirt and you can not only meet Robert, Kristen, Taylor Lautner and others, but you'll get live performances from bands like Death Cab for Cutie.
You can go to Hot Topic (opens in new tab) and Nordstroms (opens in new tab) for information on who will attend and how to get VIP access. We've got the complete Twilight Saga New Moon Tour schedule below.
November 6 - Hollywood & Highland Center (Los Angeles, CA)
* November 8 - Park Meadows (Denver, CO)
November 9 - Natick Collection (Boston, MA)
* November 9 -Mall Location TBD - Check hottopic.com for update (Chicago, IL)
* November 9 - Fair Oaks Mall (Washington, DC)
November 10 - Houston Galleria (Houston, TX)
November 11 - Mall of America (Minneapolis, MN)
* November 11 - Cherry Hill Mall (Philadelphia, PA)
* November 11 - Stonestown Galleria (San Francisco, CA)
November 12 - Mall of Georgia (Atlanta, GA)
November 12 - Westfield Southcenter (Seattle, WA)
*November 13 - Dadeland Mall (Miami, FL)
November 13 - Scottsdale Fashion Square (Phoenix, AZ)
November 14 - Fashion Place (Salt Lake City, UT)
*November 19 - Times Square (New York, NY)
*Denotes a performance by a band featured on THE TWILIGHT SAGA: NEW MOON soundtrack.
Your Daily Blend of Entertainment News
Thank you for signing up to CinemaBlend. You will receive a verification email shortly.
There was a problem. Please refresh the page and try again.