Teaser Trailer And Poster For Weta's Wind In The Willows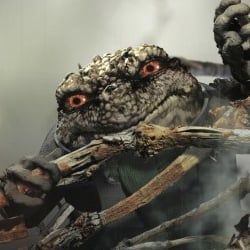 The Wind In The Willows should be a staple of your childhood reading. The adventures of Mole, Ratty, and Toad are so legendary that they even became a ride at Disney World. There have been many film and TV iterations of the story, but something tells me that the latest version, driven by Weta's effects team, will bring a new twist to the 102-year-old story.
The folks over at Bleeding Cool landed the first teaser poster for the film along with a short, text-heavy trailer that you can see embedded below. It's hard to say whether or not the movie will be good based on such a short piece, but the animation on Toad sure looks cool. Reportedly the characters will be played by men in suits wearing animatronic faces that will be programmed to mimic the prerecorded facial movements of the actors, but the trailer just looks like CGI and stop-motion to me.
Hobbit divorcee Guillermo del Toro was once attached to this piece until he walked away after the producers asked him to give Mr. Toad a skateboard and make him say "radical things." Good move. This version doesn't seem to have taken that route, though, and hopefully the Weta guys will be at Comic Con next week we'll get some more info and a better trailer very soon, even though we've got almost two years to wait before the movie comes out. Keep your eyes peeled.
And here's the poster:
Your Daily Blend of Entertainment News