Terrence Malick Shooting Two Movies Back To Back In 2012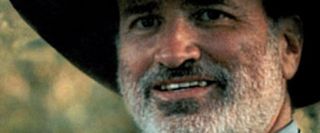 Apparently in the 20 year gap between releasing Days of Heaven and The Thin Red Line, Terrence Malick was coming up with movie ideas that he now feels compelled to make as quickly as possible. WIth Tree of Life still winding its way through theaters, and the companion IMAX piece Voyage of Time presumably near completion, Malick has three more films in the works. One of them, which may or may not be called The Burial, he already shot with Ben Affleck, Rachel McAdams and other big names in lead roles. Now THR has new information, from the American Film Market in Santa Monica, about two more of them, which he plans to shoot back to back next year.
And if anyone has a busier and more promising schedule than Terrence Malick, it's Ryan Gosling, so obviously he'll be starring in one of them, called Lawless. That project is actually the one we'd been hearing about a bit before, with Christian Bale and now Haley Bennett also confirmed for roles after some speculation; earlier this year Malick and Bale were at the Austin City Limits music festival to shoot some footage, though it's totally unclear how that will fit into Lawless. If that wasn't enough, though, Cate Blanchett and Rooney Mara have also been added to this cast, making this essentially a who's who of up and comers past and present.
The second project, titled Knight of Cups, will also star Bale and Blanchett along with Isabel Lucas, who had a role in Transformers: Revenge of the Fallen as well as the upcoming Immortals. Without any spies at the Austin City Limits festival to rely on, we know even less about Knight of Cups-- which is to say, we know nothing.
It's fairly astonishing to see this complete turn-around in Malick's work ethic, the man known for his painstaking process and slow production schedule suddenly moving as if he's a studio rushing out a sequel. We've yet to see any of the movies made this quickly-- Tree of Life took nearly a decade to complete-- but when we do, we may be looking at an entirely different Malick. If you're a fan of the director, are you excited to see what this change might bring, or worried this can't mean anything good?
Staff Writer at CinemaBlend
Your Daily Blend of Entertainment News
Thank you for signing up to CinemaBlend. You will receive a verification email shortly.
There was a problem. Please refresh the page and try again.